A guide to easy vegan swaps for a successful Veganuary 2021!

Veganuary is easier than you think – especially in 2021 with so many amazing alternatives and new vegan releases bouncing onto the scene. But if this is all new to you and you're not sure where to start, don't panic! We've been registering vegan products for over 30 years with the Vegan Trademark so we've got you covered. From food to toiletries, we've put together a handy guide of Easy Vegan Swaps all registered with our trademark. This means we've ensured the product is free from animal ingredients and animal testing.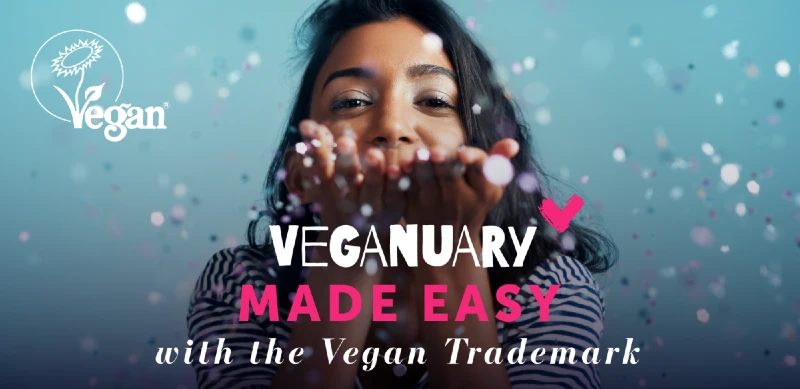 Dairy

Swap out dairy milk with Alpro's range of plant milks (available widely at supermarkets and independent stores).
If you're looking for plant based spreads and butters, try Pure's vegan spreads (Asda, Tesco, Sainsbury's, Ocado and TheVeganKind Supermarket) and Flora Plant's salted and unsalted vegan butter blocks (Asda, Sainsbury's, Morrisons and Tesco in the UK, Dunnes and Supervalu in Ireland. Also available in the Netherlands, Austria, Switzerland and the US).
For cheese, check out Applewood Vegan (Asda, Tesco, Sainsbury's, and Waitrose) plus many others available widely in supermarkets and online – simply look for the Vegan Trademark on packaging.
Eggs

Follow Your Heart's delicious Vegenaise is the perfect swap for mayonnaise (Tesco, Sainsburys, TheVeganKind Supermarket, Ocado, Planet Organic), and their Vegan Egg is a great egg replacement for your pancakes, French toast, baking and more (Holland and Barrett and TheVeganKind Supermarket).
If you're missing scrambled eggs, a delicious tofu scramble made with Tofoo's Naked Tofu will ensure you never go back – you can even use it in omelettes and quiches! (The Co-Op, Sainsburys, Tesco, Waitrose and Ocado.)
New to the egg replacer market are Oggs Aquafaba (Asda, Sainsbury's, Waitrose and TheVeganKind Supermarket) and Crackd No-Egg Egg Replacer (Marks & Spencer and TheVeganKind Supermarket). Both can be used as an alternative to eggs in your vegan baking and cooking.
Meats

Swap the mince in your homemade burgers and Bolognese with Naturli's delicious vegan mince (Sainsbury's and Planet Organic) and Richmond have you covered for meat free sausages (Asda, Tesco, Sainsbury's and Waitrose). Naked Glory also offer a range of plant based meat and chicken alternatives (Asda, Tesco and Waitrose).
Fry's Family's Chicken-Style Strips (for your stir-fries!), Nuggets and Fish-Style Fillets are a tasty alternative to chicken and fish. (Tesco, Sainsburys, Morrisons and Holland & Barrett)
Vitamins

For vegans and meat-eaters alike, taking some form of multivitamin is likely part of your daily routine so swap this out for a vegan supplement for Veganuary (and beyond). VEG 1 is a chewable daily multivitamin developed by The Vegan Society and registered with the Vegan Trademark. Available in two different flavours, VEG 1 rolls seven key nutrients (vitamins B12, D3, B2, B6, Iodine, Selenium and Folic acid) into one convenient tablet.
Selective supplementation is an important part of healthy vegan nutrition. Multivitamins like VEG 1 provide that little bit of extra support, allowing you to go and stay vegan. Affordably priced at just £6.60 for a 3-month supply, they're available on our webshop.
Body care

Many personal care items and toiletries contain hidden animal ingredients or may have been tested on animals. Luckily, there are so many bunny friendly alternatives that you can replace your regular body care with this Veganuary.
Original Source offer an affordable range of shower gels available widely, while Faith In Nature have you covered for soaps, handwash, shower products and haircare (Boots, Tesco, Sainsbury's and Big Green Smile), and Salt of The Earth for deodorants (Holland & Barrett).
For dental care, check out Georganics' natural and low-waste toothpaste and mouthwash tablets (www.georganics.com and Holland & Barrett), Colgate's Smile For Good Protection and Whitening toothpastes (Tesco, Boots, Wilko and Ocado), and UltraDEX's toothpastes, mouthwash, oral rinses and breath spray (available at these stockists).
Worried about vegan period care? Check out TOTM's organic sanitary towels, tampons, pantiliners and period cups (www.totm.com and Tesco) and WUKA for sustainable period pants (www.wuka.co.uk and Sainsbury's).
Household

There are several ingredients and processes used in the production of cleaning products that may involve the exploitation of animals, therefore making them unsuitable for vegans. But there are plenty of vegan options out there!
For a wide range of home cleaning products, check out Astonish (Asda, Wilko TheVeganKind Supermarket), Ecozone (look for the Vegan Trademark on registered products at Homebase, Holland & Barret, Big Green Smile and www.ecozone.com), and Bio-D (Big Green Smile and www.biod.co.uk).
Supermarkets

As well as stocking a wide range of Vegan Trademark registered products, Asda have a large number of own brand products registered by us too, including bags in their George range). They even have a vegan only ambient food isle and the Vegan Trademark logo on over 600 products on their website to help you spot vegan products in a flash. In addition, Asda are currently trialling a vegan butcher concept at their Watford store this January so keep a lookout for this!
Aldi also have a great range of products registered by us, and online supermarkets like TheVeganKind supermarket also stock lots of registered products.
Elsewhere, you'll find our trusted Vegan Trademark on over 47,000 products in supermarkets, home stores, fashion retailers and more to help you shop vegan this Veganuary, and for life.
Have a wonderful Veganuary and if you want to learn more about the work that goes into registering products with the Vegan Trademark and why it's important, check out our blogs.
By Vegan Society Digital Marketing Officer, Nishat Rahman.
The views expressed by our bloggers are not necessarily the views of The Vegan Society.