Monday, 18 December, 2017
Plant-based eating is becoming mainstream for many British people now, but often vegans can find eating out challenging when they are travelling abroad. However, travelling in Asia is often far more delicious for the travelling vegan than it is at home in the UK.


India overwhelmed us with plentiful vegan food, in a way that made us feel like that's simply how it's always been. For much of Asia, egg is perceived as a meat by-product and in India, eggs, curd and paneer (Indian cheese) are usually found on the 'non-veg' menu; and there is always a separate 'veg only' menu. This was such a joyous experience for us as long-term vegetarians who like to travel. Try the paper thin and crispy Indian pancakes known as dosa or their thicker cousin, oothapam for plant-powered perfection on a plate. Made from fermented urad dal, these dishes are both delicious and good for you. And come with a multitude of fillings and toppings. Then, of course, the combinations of curries and dals are endless.
There is a definite propensity for snacking across India, perhaps driven by the wonderfully varied street food. The street food of India is never about expensive or unusual produce, but a celebration of the accessible and plentiful. Outside of the wealthier cities, this means much of this snacking is vegan. But this makes no compromise on flavour, where even something based on only simple grains or a pulse has heady heights of taste. Samosas, bhajis and puri breads filled with long simmered dals are available to eat street-side just about anywhere across the Asian subcontinent.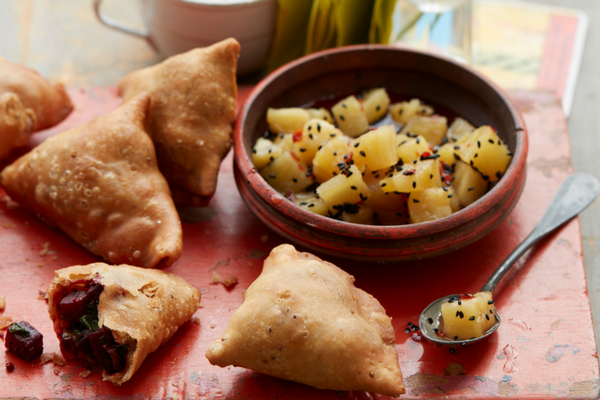 Travelling as a family we ate many delicious snacks from numerous roadside vendors, wandering through parks and cities, sitting on the banks of the Ganges and whilst waiting for many a train. Most train stations in India (and indeed on the trains themselves) are superb places to enjoy great street food. Sometimes we ate them straight from the paper, or 'chaat' style in a little bamboo bowl with some chickpeas, crispy gram and tangy chutneys.
South East Asia is also a vegan paradise for food. I always learn the word for vegan or vegetarian when I arrive in a country. Ask for Pad Thai 'Jay' in Thailand, the veggie version of their classic stir-fried noodle dish and it should omit any seafood additions like fish sauce. Pad Thai perfectly represents the sweet, salty and sour elements of classic Thai food with lip-smacking tamarind, soft rice noodles and crunchy vegetables. I could eat it for breakfast, lunch and dinner (and have done so many times). When you say 'jay' in Thai, they will usually ask if you eat egg when ordering food. Across SE Asia, whilst you may need to ask for no egg in certain dishes, dairy is virtually non-existent on local food menus.
There's no doubt that the world has fallen in love with Thai food. There are so many great dishes that are either naturally vegan or easily adapted. The ubiquitous noodle soup can be found on every street corner across Thailand and the variations are endless. Mostly made with rice noodles and different types of tofu with a variety of greens, the dish can be seasoned and spiced according to taste. Yellow noodles sold by street vendors rarely contain any egg and are simply yellow coloured wheat noodles. Freshly made dishes such as green curry are easy to keep vegan and tofu massaman is a great substantial vegan choice with potatoes and peanuts.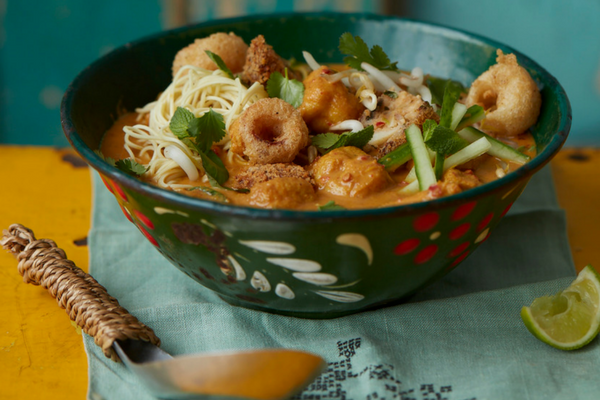 Another huge crowd pleaser from the Land of Smiles is Pad Kaprow. The name of this classic Thai dish means stir-fried holy basil, referring to the unique and fragrant SE Asian herb. I like the vegan version fried with aubergine. Just ask for pad kaprow jay, to omit the fish sauce. Perfect with some sticky rice and som tam jay (green papaya salad) on the side. If som tam isn't the best salad in SE Asia then I don't know what is! I won't lie, you need to like your chillies to enjoy this one, but the perfect balance of spicy, sweet, salty and sour combined with crunchy vegetables, elevates this dish above and beyond its simple ingredients.
Mangoes are the perfect end to your vegan street food eats in Thailand and they come no better than Khao Niao Mamuong, or mango on sticky rice. This dish is best made fresh at home or eaten fresh from a street vendor. If you love the idea of salted caramel and tropical fruit, then you'll love this dish!
Street-food vendors and night food markets are usually a great option for the plant-based eater because you can see exactly what's going into your food, and choose your additions or toppings accordingly, whether it's from a simple noodle cart, bus station café stall or shopping mall food hall – which are very different to UK ones – food is often made to order in front of you. Asian Malls will have a range of excellent outlets selling fresh vegan dishes from noodle soups and stir-frys, to curries and baked goods. British Markets have started to follow this approach, but perhaps in a more gentrified (and expensive) fashion, whereas Asian market eating tends to be very good value for money and accessible to all.
Our favourite family option when we are on the road is 'bus station rice', the nickname we gave to our go-to dish of spicy stir-fried rice, available in nearly every bus station stop we've ever made in SE Asia. Seasonal vegetables and rice are stir-fried in a spicy roasted garlic and chilli sambal, sometimes served with toppings like peanuts and beansprouts. I often wish we served this kind of food at UK transport stations instead of our bland sandwiches.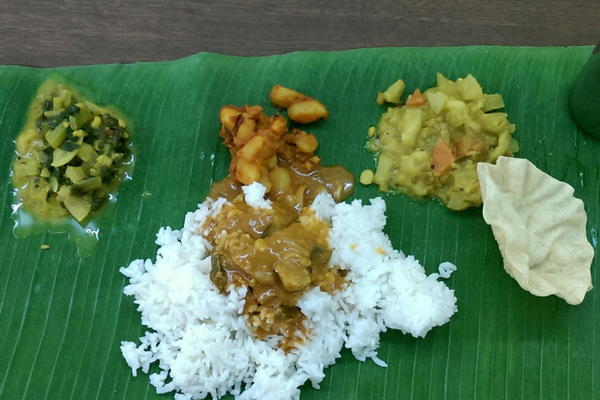 But it's not all about street food in SE Asia. Many wonderful restaurants cater with ease for vegans and vegetarians. We ate like kings and queens in Phnom Penh, in Cambodia and it's a city I would happily spend months exploring and eating my way around. The French influences are still apparent in many of the cities, and local and European restaurants are widespread. There is a huge contrast because the rural and city life in SE Asia, but you will often find the same local dishes being made because people eat what grows around them. My favourite dishes include Khmer yellow curry, rich with turmeric root and fragrant lemongrass, and flavourful summer rolls stuffed with crunchy vegetables and fresh basil, mint and coriander.
Apparently, the use of cannabis as a culinary herb was common before the wars. Then the US government refused to offer any post-war aid unless they made cannabis illegal. Though magic pizzas can still be found on the odd menu. Don't be surprised if you are offered an insect to eat, as this is also a much-favoured delicacy in more rural areas, which became commonly eaten during the famines under the Khmer Rouge. But vegetarianism and veganism are well understood in much of SE Asia, which makes travelling easier than other parts of the world.
Student food spots are also great places for good value and nutritious vegan food, wherever you are in the world. Look out for the Indonesian student staples of rice balls, tempeh skewers and green jackfruit curry which can be found in the malls of Kuala Lumpur and Jakarta, and student hangouts across SE Asia. Tempeh is a fermented and compressed soybean cake, used in all manner of snacks and curries in Indonesia and parts of Malaysia.
I have heard it can be more challenging to maintain a plant-based diet in Eastern parts of Asia, such as Japan, Korea and China. However, it is certainly worth seeking out places that serve Buddhist meats, which are mock meats made from plant grains. These 'grain-meats' are widely available to buy in China (and Chinese supermarkets across the world) and we've come across cafes serving Buddhist meats in Vietnam, Laos, Myanmar and Malaysia.
It's fair to say we've never gone hungry as a family while travelling in Asia, and if you find yourself well off the beaten track somewhere, as long as you carry a jar of peanut butter and salt crackers in your rucksack, it will keep you going until you reach the next bus or train station.
About the author:

Jackie Kearney was a finalist in BBC One's MasterChef 2011 and runner up for Best Main Dish at the British Street Food Awards in 2012. As a street food pioneer in the UK, Jackie, aka The Hungry Gecko, travelled up and down the country with her iconic trailer Barbarella, serving up Asian fusion street food, as well as working with the MasterChef street food bus. Her food passion lies with world street food, and vegan and vegetarian dining.
Jackie published her first cookbook, Vegan Street Food, in 2015 and won PETA's Best Vegan Cook Book in 2016. Her second book, My Vegan Travels was published in October 2017 (RPS/CICO books).
In between occasional pop-up events, Jackie now works as a consultant chef for several restaurants including Tampopo and East Street and teaches at several cookery schools around the country including Seasoned (Derbyshire), Season @ Lainston House (Winchester), Waitrose Kitchen (Kings Cross) and Divertimenti (Kensington). 
Further information about events, and street food inspired recipes to cook at home, can be found on her website  where Jackie also blogs about food and travel
Jackie's book, My Vegan Travels is available to purchase here. 

The views expressed by our bloggers are not necessarily the views of The Vegan Society.