Friday, 13 December, 2019
Move over elves, we want to know what else will be gracing shelves this Christmas! With veganism growing year on year, so is the abundance of vegan Christmas treats and alternatives.

From picking up a few festive bites to enjoy in the lead up to Christmas or for your vegan guests, to a full vegan Christmas day spread, we're delighted to see such a varied offering in supermarkets.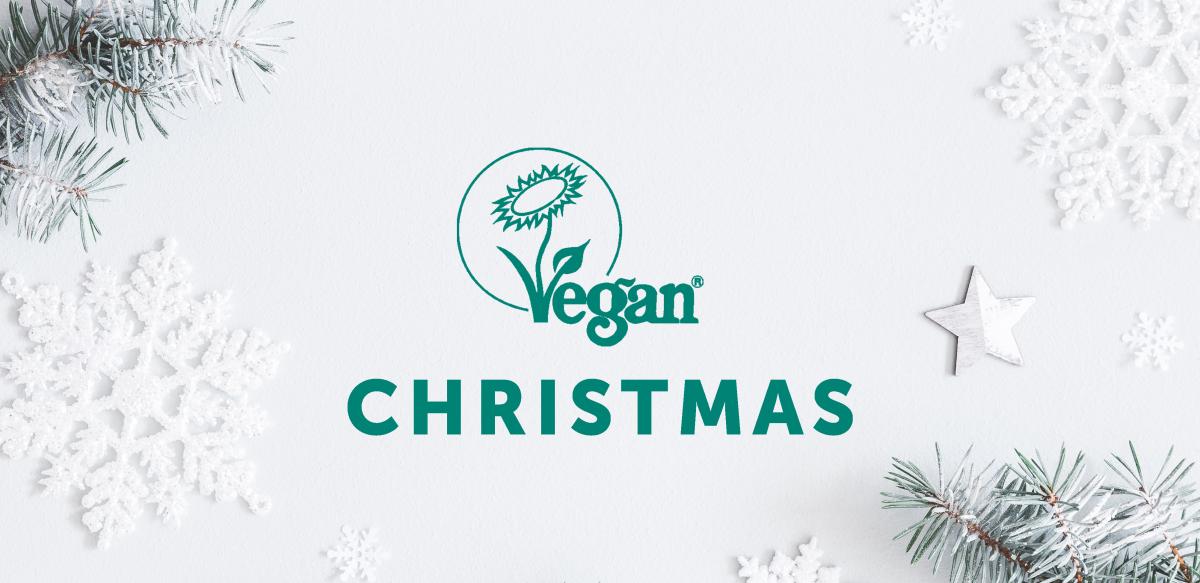 Christmas can be an overwhelming time catering for so many preferences, so we've put together a collection of fantastic festive products to save you time and get you into the Christmas spirit. They are all registered with our Vegan Trademark which saves you the time and trouble of checking if they are vegan friendly!
We Love Cake Mince Pies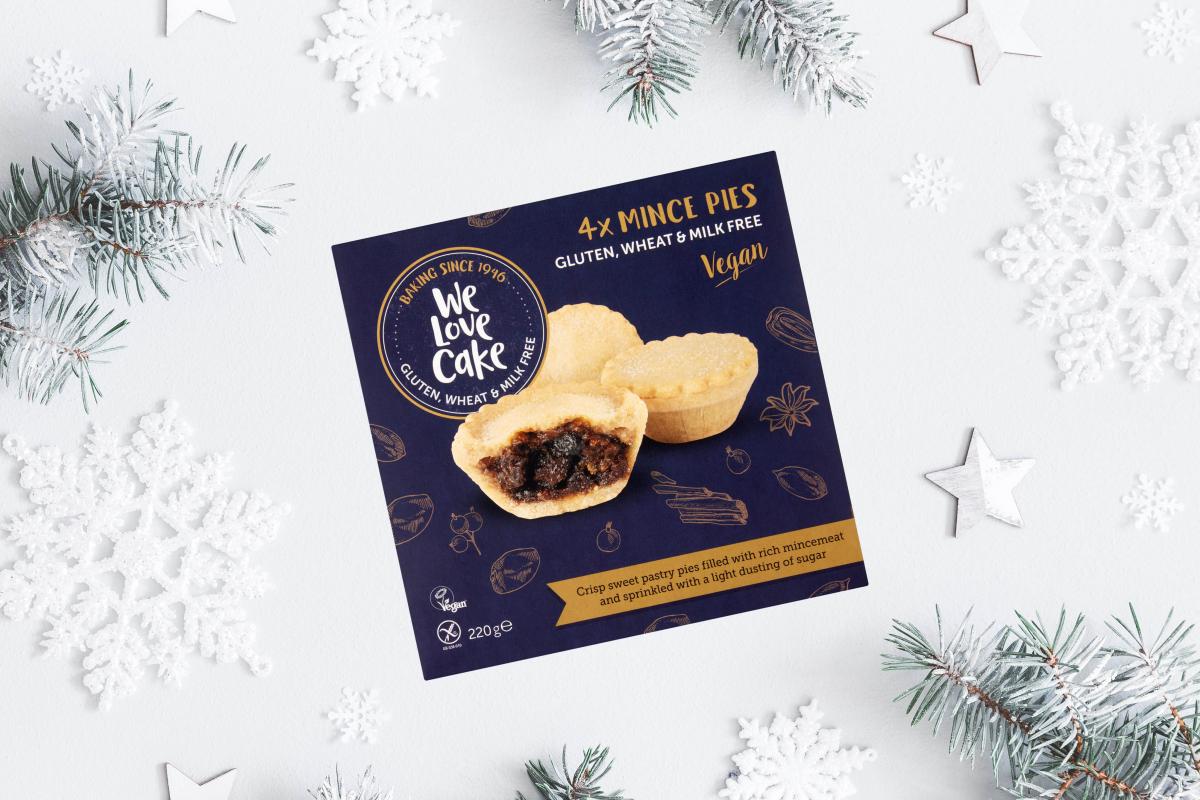 What is Christmas without mince pies? Not only are We Love Cake's mince pies vegan, but they're also suitable for the gluten free members of your family, friends or office! Ready after a few minutes in a hot oven, these mince pies double up as a delicious dessert when served with a generous scoop of vegan ice cream or whipped vegan cream. Available at Iceland.
Costa Festive Veggies Under Vests Sandwich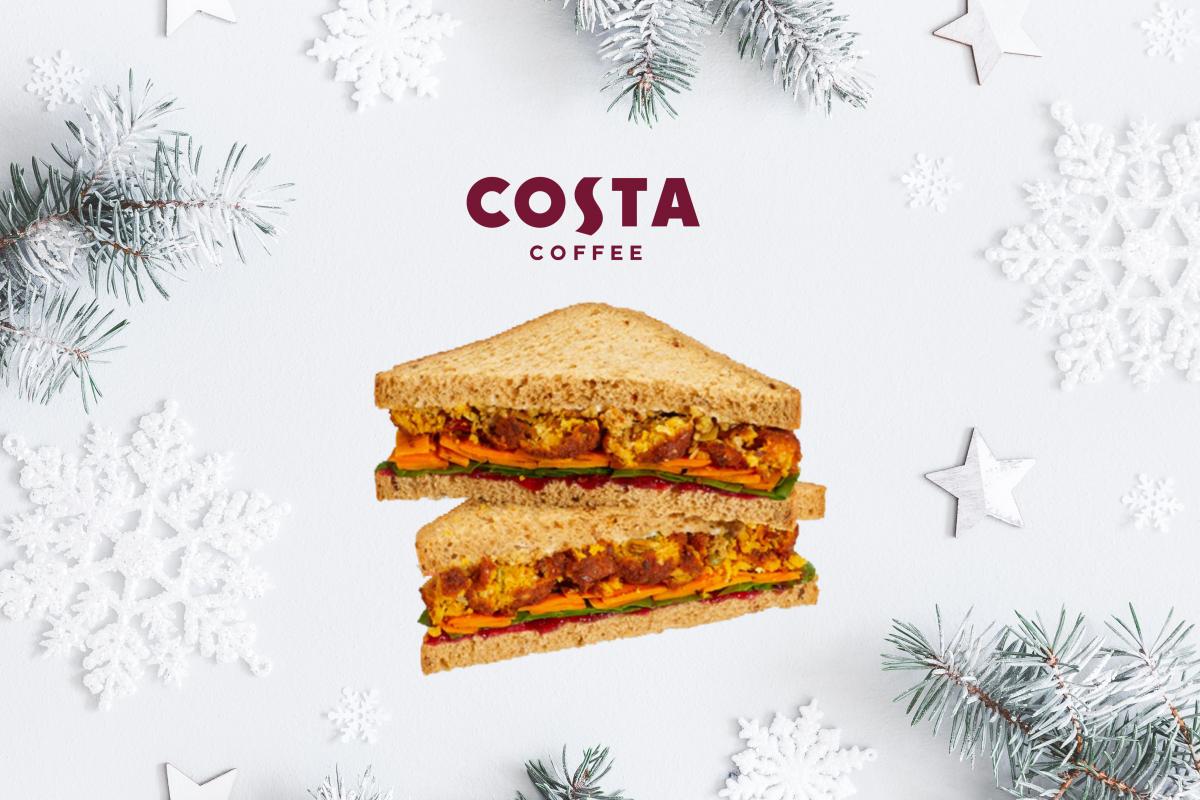 With crumbled falafel, parsnip stuffing, carrot, cranberry sauce, vegan mayonnaise and fresh spinach on malted bread, this seasonal sandwich from Costa will bring a little festivity to your work lunches or Christmas shopping breaks! If you're after something a little lighter, Costa's Spiced Parsnip Soup is also registered with our Vegan Trademark. Available at Costa Café's.
Costa Gluten Free Vegan Iced Slice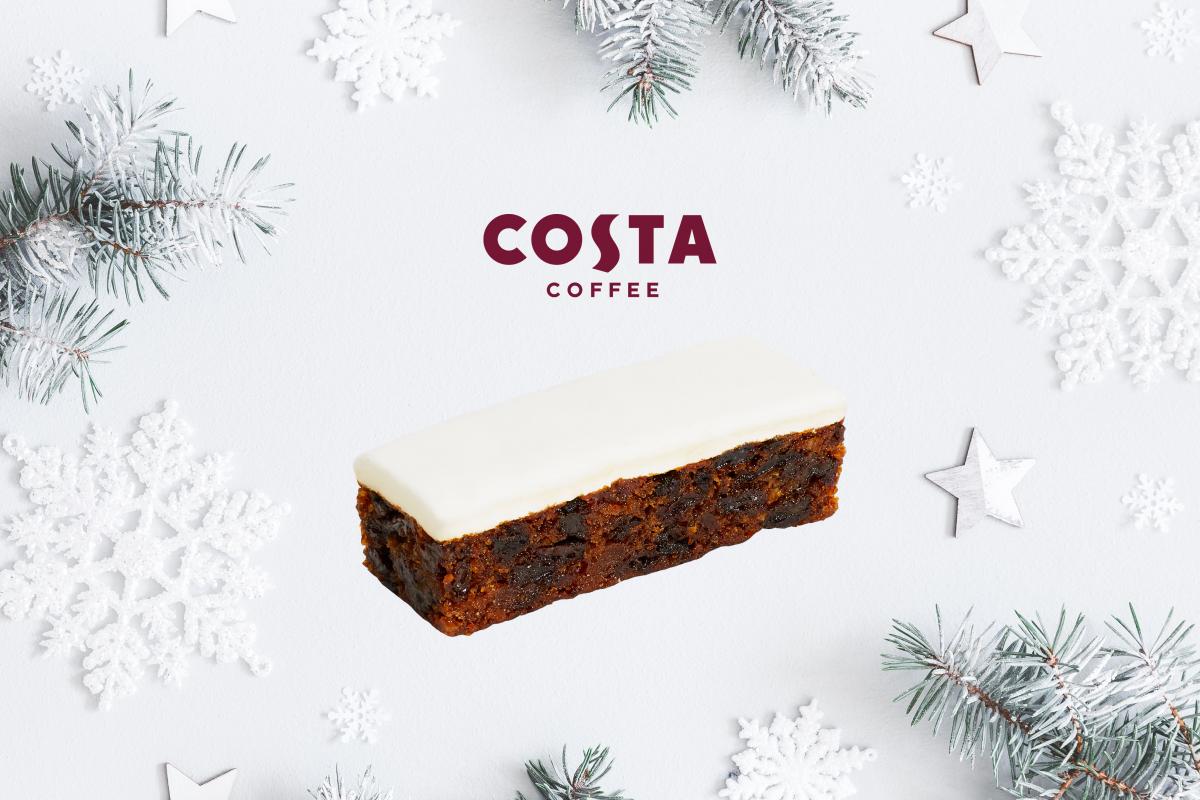 A rich, gluten free and vegan fruit cake, with a generous layer of marzipan, and a layer of fondant icing. Perfect as a little extra indulgence along with Costa's Veggies Under Vests sandwich, or as a sweet winter treat to enjoy with your vegan hot drink. And if you're after more festive sweets to try at Costa, the Vegan Gluten Free Mince Tart is also registered with our Vegan Trademark!
Divine Organic Dark Chocolate Collection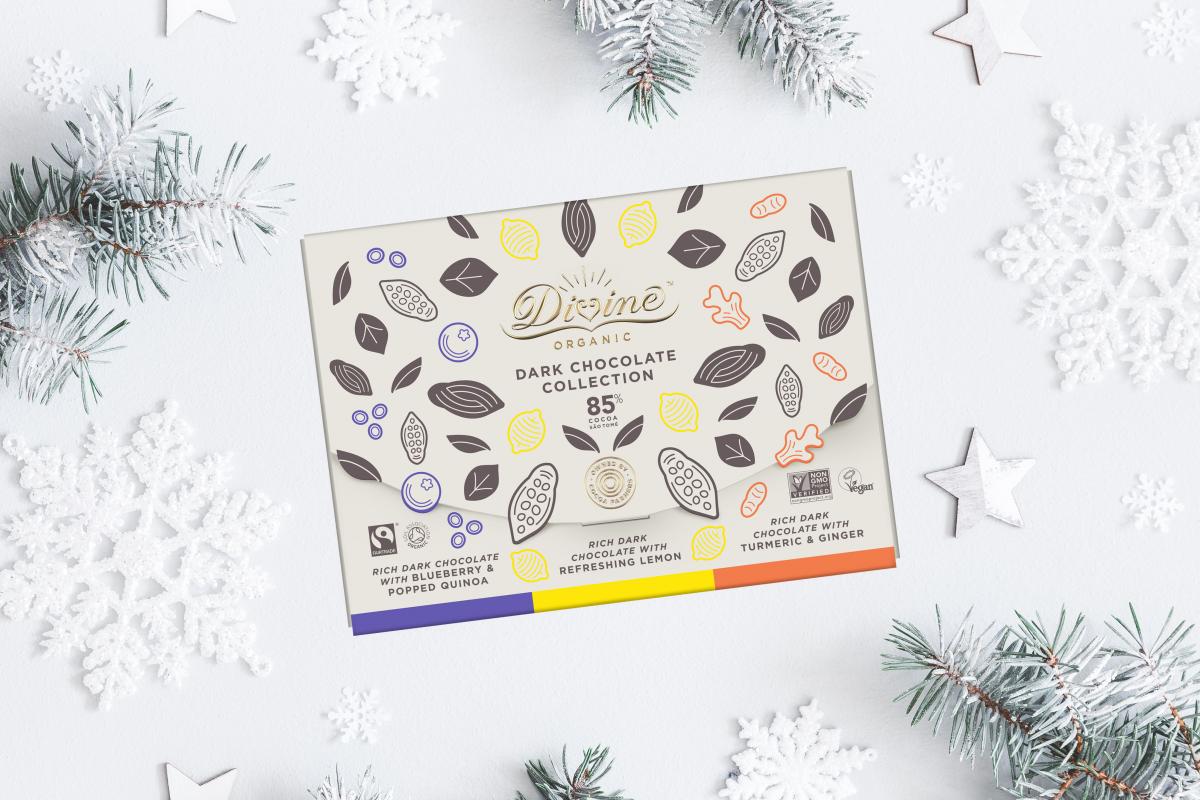 Divine's Organic Dark Chocolate Collection box features three full-sized bars from their new Organic range: Blueberry & Popped Quinoa, Refreshing Lemon, and Turmeric & Ginger. Bursting with character and ideal for those who prefer the dark side, it's great to take along as a gift for your host on Christmas day, or something for your guests to enjoy after dinner. As an added bonus, the packaging is totally plastic free and fully biodegradable! Available at Ocado and Amazon.
V-Bites Buffet Foods 



V-Bites' Cheezly & Cranberry Bites, Sausage & Bacon Style Wraps, and Pork Style Sausage Rolls from their VegiDeli range are just a few delicious snacks that are perfect accompaniments for your Christmas spread or a festive buffet. You can find them in selected Holland & Barrett stores, The Vegan Kind Supermarket and Ocado.
Tofurky Roast with Herb Gravy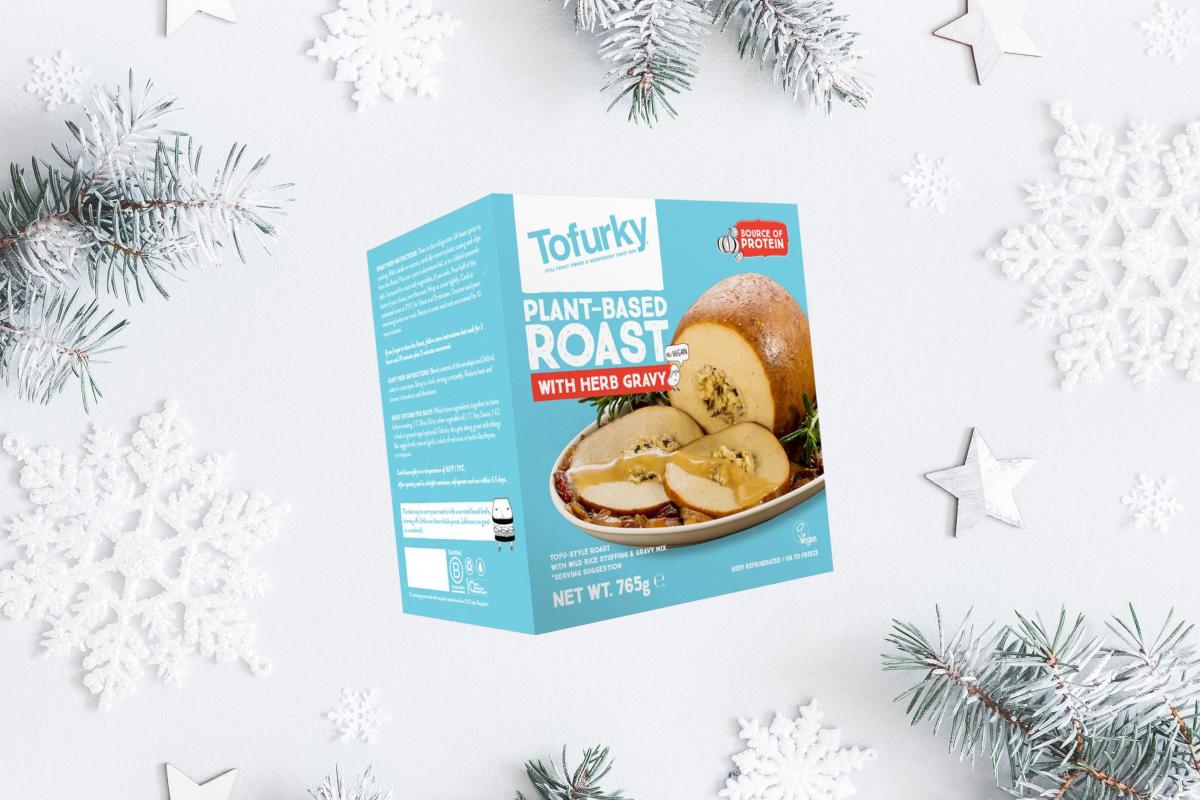 There's no reason for you to miss out on traditions that come with Christmas. Carve up your very own roast with Tofurky's vegan roast, packed with flavourful wild rice stuffing and a herb gravy. Tasty and kind to animals! Available at selected Holland & Barrett stores, The Vegan Kind Supermarket and Ocado.
Asda Vegan Mushroom & Lentil Nut Roast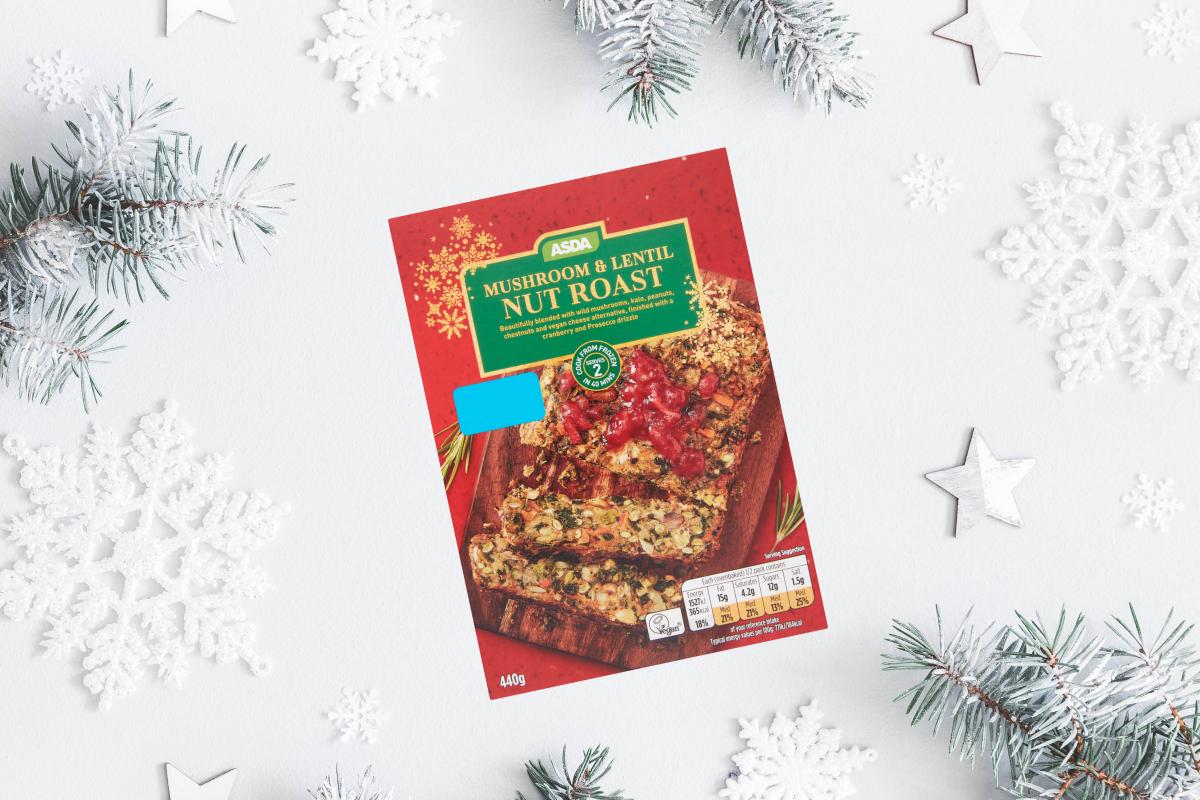 If you're a nut roast kind of person, Asda's Lentil & Mushroom Nut Roast is ideal. Beautifully blended with wild mushrooms, lentils, kale, maple roasted carrots, chestnuts, peanuts and a coconut oil based alternative to Cheddar cheese, it also comes with a sachet of cranberry and Prosecco sauce. Available at Asda stores and www.asda.com.
Aldi Vegan Wreath Centrepiece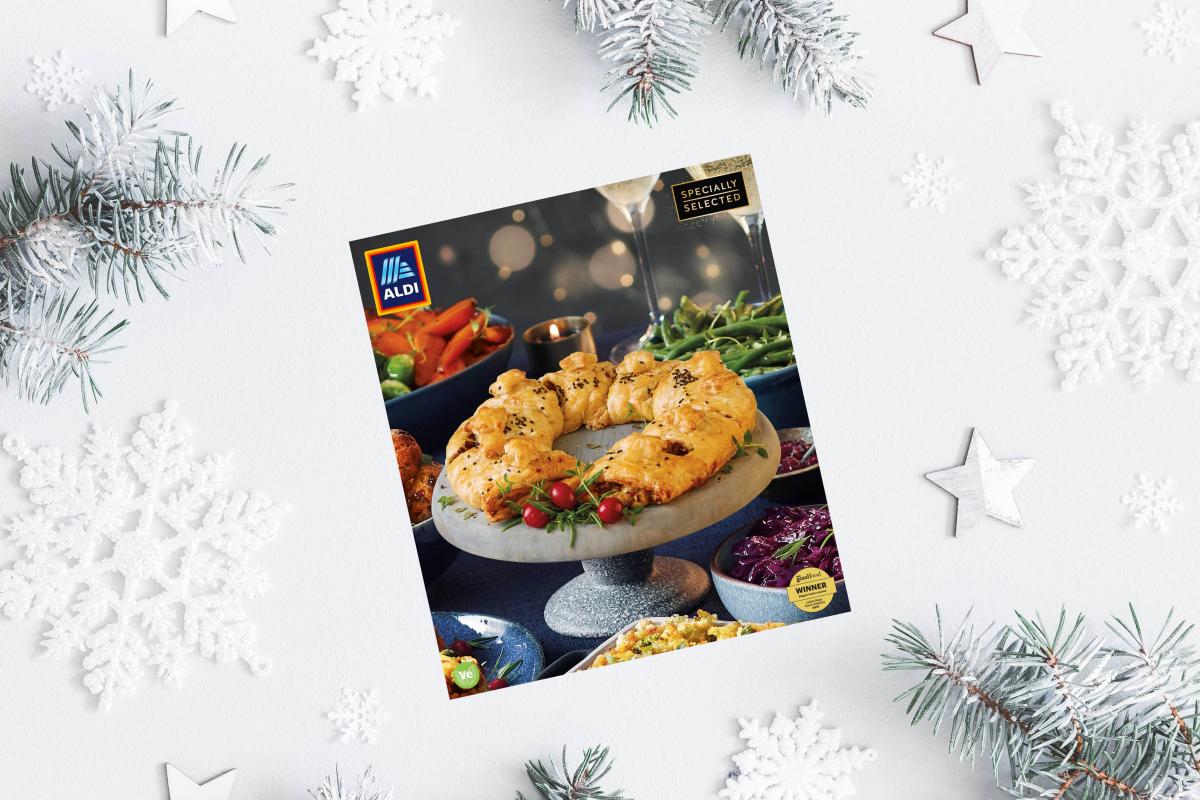 This Chestnut Mushroom, Butternut Squash and Fruit stuffing wreath by Aldi will not only look beautiful on your Christmas table, but it's also full of delicious, seasonal flavours. Aldi are also doing vegan Root Vegetable Pastry Crowns with Cranberry Sauce as part of their festive offering this year which is available now. The Wreath Centrepiece will be available at Aldi from 21st December.
Asda Free-From Marc de Champagne Truffles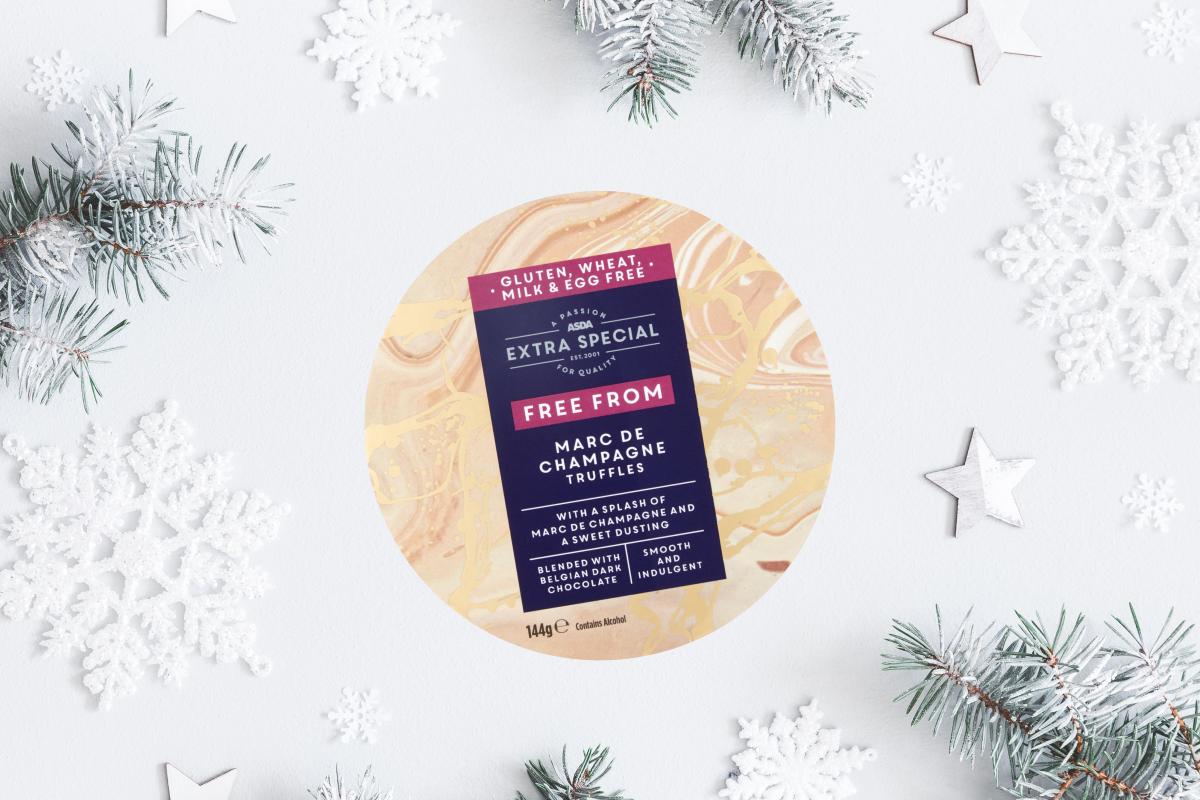 These smooth and indulgent Marc de Champagne truffles are not only vegan but gluten-free, too. Blended with Belgian dark chocolate and a splash of Marc de Champagne, it's the perfect little luxury to enjoy after dinner. Available at Asda stores in the free-from aisles.
Violife Christmas Dairy Free Platter 

Violife's Christmas Dairy-Free Platter with Blu Wedge, Cranberry After Dinner and Mature Cheddar Flavour Blocks, is essential for your vegan seasonal celebrations, and a great way to round off a plant-based Christmas feast. Be sure to serve it with cheese-board classics such as grapes, vegan crackers and a selection of pickles and chutneys! Available at Asda, Marks & Spencer, Waitrose and Ocado.
These are just a few of the wonderful vegan treats registered with our Vegan Trademark that are available this Christmas. Whether you're shopping for your own vegan festive spread, for guests or when suggesting options to your vegan host this Christmas, be sure to share our blog to make Christmas less awkward – and seriously delicious – for everyone! 
Look out for our Vegan Trademark logo when you're shopping to help you find more vegan products this Christmas and share your suggestions. 
Happy feasting and Merry Christmas from everyone at The Vegan Society!
By Vegan Society Digital Marketing Officer, Nishat Rahman
The views expressed by our bloggers are not necessarily the views of The Vegan Society.