Youth Membership category has launched

We are excited to announce our Youth Membership category!
Between 15 October 2020 and 15 January 2021, new members who are aged under 26 can join The Vegan Society for a discounted rate of £5 for 12 months of eco-membership. The membership fee will increase to the full membership fee after the 12-month period has ended.
The reduced rate is only available during the above dates, but young people can still join The Vegan Society as a member after the promotional offer has ended.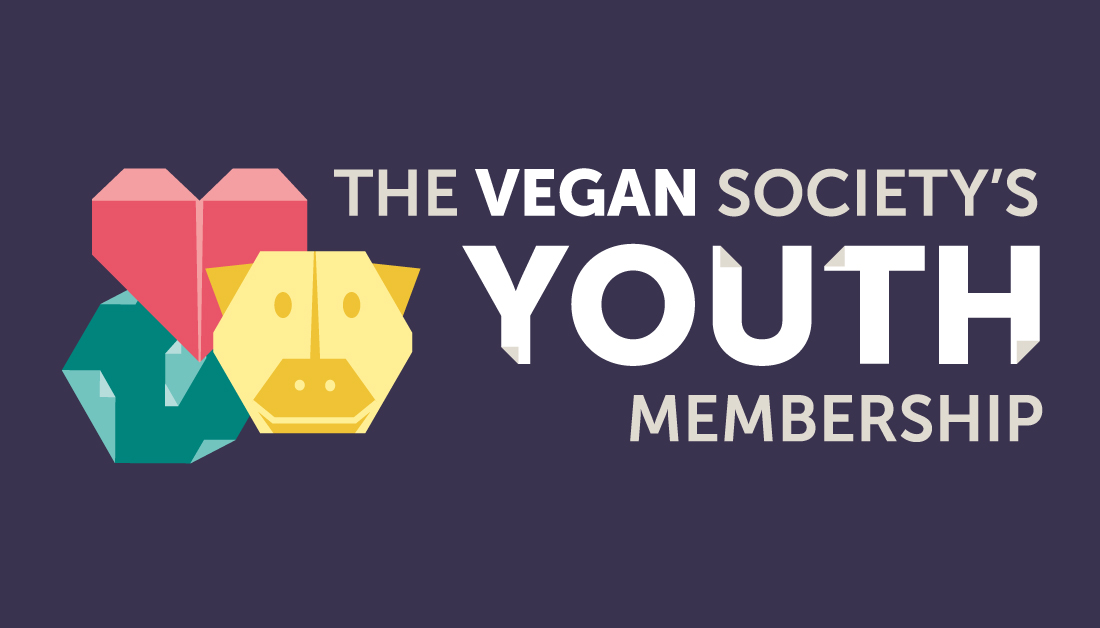 Members are amazing 

For over 75 years, our members have helped make veganism what it is today; a thriving lifestyle choice for everyone.  
Over the past year the support of our members has helped us to host events in every sitting parliament in the UK, conduct pioneering research into what leads people to veganism and the vegan consumer and business market, and help many thousands of people try a vegan diet. With the support of members we were also able to hold our Grow Green conference, launch The Vegan Society's International Rights Network, create our app VeGuide and increase the number of trusted vegan products on the market to over 45,000. We had our campaign, Catering for Everyone, publicly backed by 25 elected politicians. We have created our own Podcast, The Vegan Pod, and launched Future Normal, our biggest campaign to date.
We want to encourage young people to be part of the generation to question our use of other animals and to do things differently, to create a more compassionate world.
Lauren Williams, Membership Marketing Consultant for The Vegan Society, said:
"We are so excited to launch our Youth Membership category. Veganism is a diverse and fast-growing movement, and we need everyone on board to help support and bring about positive change. To continue growth within the vegan movement, increased awareness of The Vegan Society's work is essential.

Our members help us to create a more compassionate world by supporting our campaigns, education work, advocacy and outreach.

The Youth Membership is not only accessible financially but unlocks access to resources that will provide inspiration and guidance for young people on the vegan way of life. Wherever you are on your vegan journey, The Vegan Society is here to help."
Membership of The Vegan Society is also open to non-vegans who support the society's work but are not yet vegan.  
Why now? 

"I am going to join as a Youth Member because I want to support the work of The Vegan Society. They are such an important voice for veganism, and they can always be trusted to educate people with well researched evidence-based resources. Now is the time for young people to join and echo that voice amongst their peers." Rowan, 18. The University of Leicester. 
Many young people agree that now is the time to be amplifying young voices in the vegan movement. The threat from the climate crisis means that young people are the most likely to be affected by the impacts of animal agriculture on our planet. Decisions and policy being made now could lead to a brighter future for the next generation. 
"I'm really excited about the new Youth Membership option, because I think The Vegan Society does important work and I think this will be a great way for young people in the UK to get more involved with the vegan movement. Young people are the future, and vegan diets are becoming increasingly popular with our demographic. We have the enthusiasm and drive to make the world better for animals, and The Vegan Society is an important part of this movement." Bella Forristal, 22. President of Oxford Vegan and Vegetarian Society.
What are the benefits of joining as a Youth Member? 

Like full membership, signing up for Youth Membership means you will get access to 10% off our multivitamin, VEG 1, and over 130 third party discounts such as, 10% off One Planet Pizza, 15% off Munchy Seeds and 15% off Nourish London skincare. Our discounts are there to help with every aspect of living a vegan lifestyle, from clothing to wear, cosmetics to use and even places to go on holiday.
As part of being a member you will also get a subscription to the eco version of The Vegan magazine. This is published every quarter and features essential updates on all of our recent work as well as interviews with influential vegans, recipes, competitions, advice, shopping and more. 
Members also get access to the Dietitian Corner, which is a space dedicated to sharing unique nutrition blogs for our members. You can also make sure you're clued up on vegan health by taking a look at our nutrition pages. These are perfect for helping to answer those pesky questions like 'where do you get your protein?' For any trickier questions, there's always our Dietitian, Heather who you can contact for advice.
The Members' area also includes the Vmuseum which is an archive of fascinating documents from back when the Society was formed in 1944. You can read a Vegan Society newsletter from 1970 or even a speech from Donald Watson given in 1947. 
What else can I do? 

There are loads of ways that you can get involved or get the support you need. A great place to start is our Teen Hub which has loads of advice and resources for younger vegans. 
Our Community Network is made up entirely of volunteers* and we're always looking for new members to help spread awareness of veganism. There are two ways you can get involved with our Community Network, through organising and advocating. Organisers work directly with staff to carry out local actions throughout the year, with Advocates coming along and supporting those actions to get the best outcomes we can. *All volunteers need to be aged 18 or over to volunteer with The Vegan Society. 
If you're looking for some food inspo then our recipe pages are packed with great recipes to wow your friends and family.
Maybe you have an idea for an exciting project that will help non-vegans engage with vegans? You could apply for a grant from our Engaging New Audiences' fund here. 
And don't forget to follow us on social media for campaign updates, news and competitions. You can find us on Twitter here, Instagram here, and Facebook here. 
"I'm incredibly excited about the new Youth Membership that The Vegan Society is offering. Young people in the UK have a huge drive for creating change especially for the planet and animal rights. I think the youth membership is a great way for people to get involved and have their ideas heard and progress the vegan movement." Bethany Garland, 21. President of the Vegetarian and Vegan Society at the University of the West of England. 
Are you or do you know anyone aged under 26 who is vegan or vegan curious?

If you join as a youth member, gift a Youth Membership, or refer someone to join as a youth member, you will be entered into a prize draw for a chance of winning a vegan chocolate hamper from Moo Free! 
 
The views expressed by our bloggers are not necessarily the views of The Vegan Society.