Danielle James from The Vegan Veg Gardeners shares her top tips for beginners.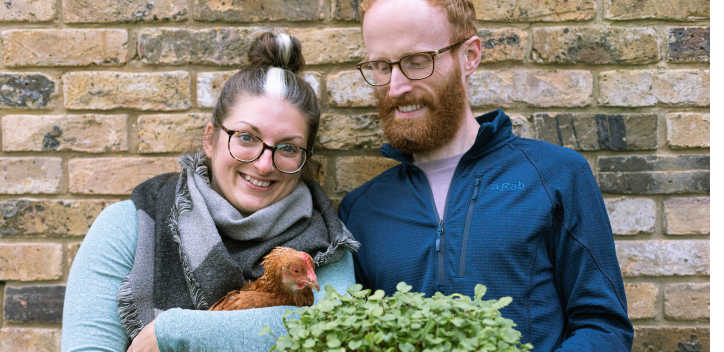 Since the Victorians started importing exotic plants into the country, gardening has been incredibly popular. But still, most gardeners can't place how working with plants isn't necessarily vegan. Tell someone that you're a vegan gardener and you'll probably receive a slightly bemused expression in return.  
So what is 'veganic gardening'? It is the use of vegan and organic methods within our green space. Being vegan denotes that we strive to cause no harm. In a gardening context this means no use of animal waste to 'fertilise' our land; no chemical weedkillers and definitely no killing of garden 'pests'. 
The Vegan Organic Network explains that veganic food is "Grown in an organic way with only plant-based fertilisers, encouraging functional biodiversity so pesticides are not necessary. No [harmful] chemicals, no GMO and no animal by products are in any part of the chain." And you know what? I think this all sounds pretty good! 
Green beginnings 

As a child in the 1980s I remember following my grandparents around garden centres in Hertfordshire and London. At that age, I mainly enjoyed the ride in the trolley and getting my dungarees dirty – although I must say that I have totally re-embraced the dungaree look as an adult! My family have always been keen gardeners and when I look back now, the one smell from my childhood that stays with me is that of tomato leaves after watering.  
After university I discovered a love of cooking and, in turn, wanted to know where my ingredients came from. In 2014 I went vegan overnight and my love of gardening continued to grow. During my first year of veganism, I learned about the horrors contained within our food chain. My lifestyle completely changed, and I soon made connections between this and my passion for gardening. Flash forward to 2021, and my fiancé Jon and I have had an allotment for six years. We have a small microgreen and mushroom business, and I'm retraining in horticulture. Our market garden dream is starting to look like a reality. 
First steps 

Starting your own vegan garden can be easy. It all starts with a seed, or you can even buy a plant or two. Dipping your toe into gardening can be like the first steps to becoming vegan. The questions to ask yourself are: "Did someone get harmed in the making of this product?" and "Am I causing harm by carrying out this action?" 
Plants are simple – they need good soil, water and sunshine. The key to good soil is good compost. For vegans this can be the first hurdle. The majority of shop-bought composts don't display their ingredients and when you delve deeper, they are often bulked out with well-rotted farmyard manure, 'Blood, Fish and Bone' and peat. Peat is a non-renewable resource which plays a massive part in sequestering carbon within our peat-bog environments. However, you can find some composts which are registered with the Vegan Trademark. 
With patience comes a more rewarding method – home composting. Simply mixing your household veg scraps with an equal amount of brown material (such as shredded paper, wood chip or cardboard) and frequently turning will create some beautiful vegan compost and provide a use for your kitchen waste.  
Once you have your compost sorted, it's as easy as planting a seed (season depending), watering and waiting patiently for the first sprout. If your garden is fed every year with fresh compost, your soil will have enough nutrients for your plants to thrive. Honestly, your plants don't need to be fed with products such as 'Blood, Fish and Bone' or eggshells – feed the soil and the plants will feed themselves. A person of interest for further reading is Charles Dowding who promotes the 'No Dig' method of gardening. 
Encouraging wildlife 

As your garden grows, you will find that wildlife will grow with it. Yes, you will see more bees, birds and butterflies as your micro eco-system takes on its own personality. But you will also see the less desired aphids, slugs, and hungry larvae. In a non-vegan garden, this is when the pest sprays come out. In an organic garden, chemical-free products are used to kill pests.  
So what do we do as vegans? We can adjust our environment to encourage more wildlife. Provide ground cover for ladybirds over winter or hang bird feeders to encourage birds to graze in your space. Build a pond (even in a washing up bowl) to encourage frogs, which will reign in your slugs. Put a ground level hole in your fence to create a green highway for our hedgehog friends, who are sadly in a massive decline. Build an eco-system and watch it thrive. Don't try to be a controlling force within your garden – aim to be an overseer. Watch and observe. 
No garden? No problem 

Now, all of the above information is assuming that you have your own green haven to play with. What if you don't? Indoor gardening has exploded with #plantshelfie photos taking over Instagram. Growing indoors is just as easy, and all of the above ideas can be used in an indoor space. For a bit of inspiration, I suggest James Wong (@botanygeek) for some incredible indoor gardening ideas and tutorials. 
Often, buying grown houseplants means you can't be sure is they were grown veganically. My advice is to buy plant cuttings online. They are most likely started off in water and you know that you can provide a vegan environment for them when they arrive.  
If an indoor jungle doesn't work for you but growing your own food does, get your name down on an allotment waiting list. You can find a list of local allotments on your council website. We need to protect these community spaces, which are also green pathways, as they are fast being transformed into land for housing as councils sell them off.  
Alternatively, for something small, you can try your hand at growing microgreens. Soak some seed overnight, place them on damp vegan compost (Fertile Fibre is ideal for this) and cover for a few days. Put them in light and you could harvest within two weeks – it's that easy!  
Green benefits 

Now more than ever it is so important to learn skills that help us thrive on our own. We should be encouraged to grow our own food, look after our green spaces and importantly ensure that our children are gaining this knowledge too. 
Gardening is often not lucrative, but it is fundamental to our wellbeing. Firstly, we need to grow food in order to survive. Secondly, the benefit to our mental health when we are outside is incredible. If I can encourage more people to grow some veganic food or take some time outside to slow down their pace of life, then I will be a very happy, dungaree-clad vegan gardener! 
You can find out more information by visiting The Vegan Veg Gardeners Instagram or by The Vegan Veg Gardeners website. 
This article was first published in our membership magazine The Vegan Issue 3 2021.
Are you enjoying this blog? Then why not join The Vegan Society as a member! From just £2 per month, you will get access to our quarterly magazine, The Vegan, receive over 100 discounts, exclusive competitions and more! To become a member or find out more information, please visit our Join Now page.  
The views expressed by our bloggers are not necessarily the views of The Vegan Society.