Wednesday, 25 March, 2020
Over the last couple of weeks, parts of the vegan community have been working to adapt to the abrupt and drastic change in circumstances brought about by COVID-19. Major events have been cancelled or postponed, while restaurants and bars have been forced to close. In some parts of the world, the streets have been emptied of people.

Challenges abound: how should activists adapt in light of social distancing? How can independent retail or hospitality businesses survive the drop in footfall? How do we ensure vulnerable people are able to access the food and support they need throughout the duration of the crisis?
The circumstances call for adaptation, resilience and mutual support. There are emerging signs of communities rallying to the cause and in this blog, I want to highlight some of those I'm aware of. This is a perspective from London and my examples are all UK-based, but readers should feel free to get in touch with stories from their own backyards.
COVID-19 and food insecurity

In economic terms, the IMF has warned that the virus-induced recession may be "at least as bad as during the global financial crisis". But while governments and central banks are launching economic support packages, cutting interest rates, expanding 'quantitative easing' and (in some cases) providing direct financial support to businesses and workers, much of the work to support those in need will inevitably need to occur at the local level. "Unlimited QE" from the Federal Reserve is one thing, but providing emotional, physical and food support to frail, isolated and worried people is quite another.
Even in relatively 'normal' times there are people in our societies who must cope with challenging situations, whether that be due to poor physical or mental health, financial insecurity, social isolation, or a host of other factors. In London alone, nearly 1.5 million adults and some 400,000 children are estimated to be living in conditions of low food security, while more than a quarter of the population of the city is reported to be 'socially isolated', meaning they do not have someone they can rely on a lot in an emergency. The outbreak of COVID-19 cruelly compounds what were for many people already challenging circumstances, jeopardising already meagre income streams, creating new sources of anxiety and fracturing already fragile support networks as direct family members become more wary of visiting vulnerable older relatives. As Sustain (a coalition of organisations in the UK working to improve the food system) has warned, there is a "clear danger of social services and food aid providers being overwhelmed" unless we see further-reaching government intervention to address the already widespread food insecurity in society.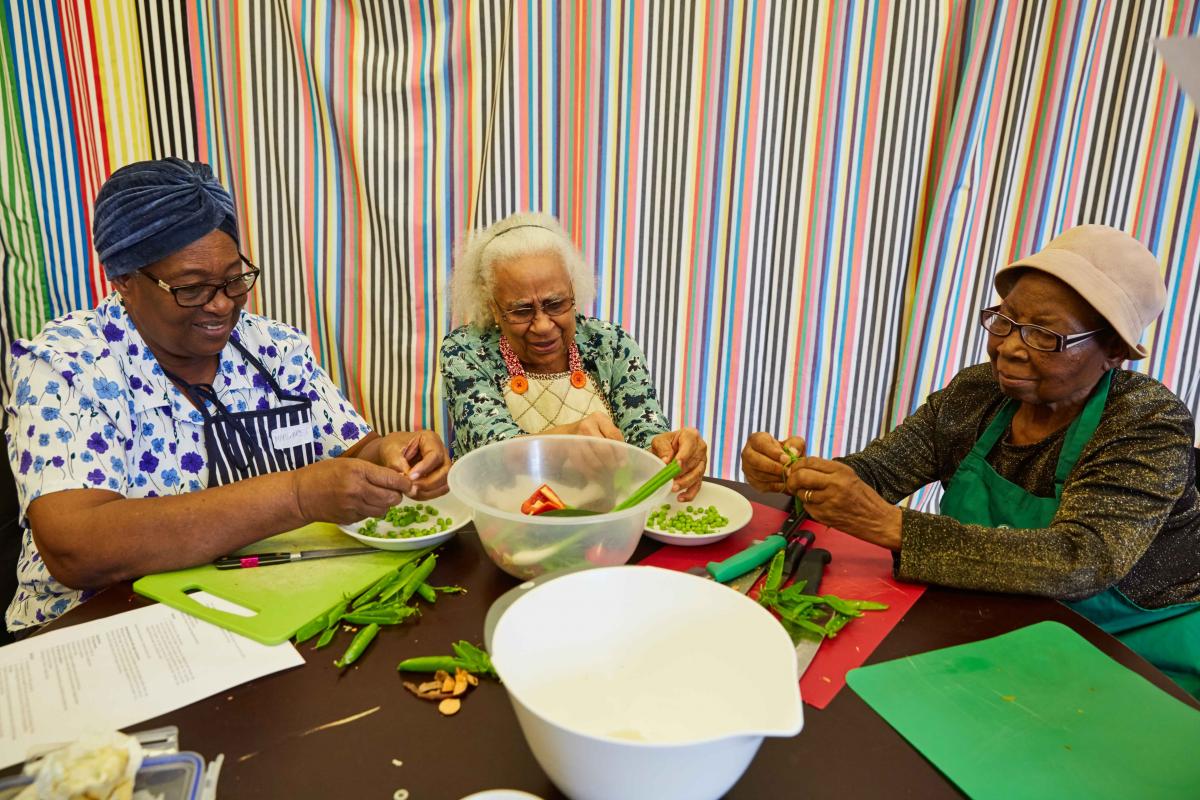 Image taken at Made in Hackney by Simon Way
Community groups rally to the cause

Community groups have sprung into action in spite of the adverse situation. A case in point is provided by the east London charity Made in Hackney – a plant-based community cookery school that's been providing free-to-attend cookery classes, training and community feasts since 2012. It works with young carers, those with low incomes, the elderly, residents of women's refuges and hostels, the hearing and sight impaired, along with other vulnerable groups. I've been volunteering with Made in Hackney for the last several months and have seen their work first hand, as well as their gutsy response to COVID-19. 
The impact of COVID-19 on the charity was swift and brutal. What began with tentative calls from the public asking whether classes were going ahead quickly snowballed as external partners withdrew from upcoming projects. There was little option but to suspend all classes. With income streams curtailed and no one likely to be coming through the doors to attend classes for an indeterminate period of time, the charity swung from a position of relative security to facing an existential threat in less than a week.
Founder and CEO Sarah Bentley swung into action with her team. Seeing the effects of COVID-19 on the already precarious livelihoods of many people in the local community, they resolved to change the entire operating model of the organisation as quickly as possible, to reorient themselves towards providing a free home food delivery service, supplying healthy plant-based food direct to some of the most vulnerable people in the community. But to do that, they needed money, and fast. 
On 17 March, they launched an emergency crowdfunder asking people to donate to help make the delivery service a reality. The response was swift and inspiring: within the space of just one week the community had donated over £40,000 through more than one thousand people. Along with financial donations came a torrent of offers of volunteer support, cooking skills, offers of food donations, as well as various services from other local organisations and companies. The current fundraising target is £50,000, which based on current plans should keep the service running for around two months.
With the financial foundations in place, the logistical challenges are now being worked through, namely, how to produce, pack and deliver meals to vulnerable people on a consistent basis for several months, while maintaining even higher than usual hygiene standards. The group is engaging with its network of users and other local organisations to identify the most at risk people in need of food deliveries. A fleet of bicycle couriers will be tasked with getting the food out to people each day using Circuit – a delivery route planner that is providing its services for free to charities during the outbreak (and at a 90% discount for restaurants). Deliveries should begin as soon as this week.
Not everyone will be able to replicate exactly what Made in Hackney is doing without having some of the same foundations (for instance, a network of willing and able hygiene-certified chefs and other food industry contacts). However, Made in Hackney is far from alone in its response. There are numerous other vegan organisations out there looking to help their communities in whatever way they can. Here is a brief list, which I'm sure is just the tip of the iceberg:
Business support networks

Businesses will also be hard hit. With many vegan businesses still in their relative infancy, they will remain incredibly vulnerable to the sort of disruption heralded by the pandemic. The situation for small food businesses in particular is dire. Many companies who sell their products through small physical shops or market stalls are being forced to retreat to online-only sales, while restaurants have switched to deliveries or collection-only services (and even these operations must now be under threat as the UK enters stricter lockdown). The stark reality is that without the exceptional support of their customers over the next few months, many of these young companies will struggle to stay afloat. 
However, there are signs of vegan businesses coming together to support one another. In London, for instance, the BRIGHT Club has launched a support network for vegan businesses to provide guidance, advice and mutual support. They are also maintaining a spreadsheet of UK vegan businesses, with well over 150 listed so far, detailing how you can continue to support them by ordering online, or buying vouchers.
Where next is anyone's guess

In the space of a few short weeks, COVID-19 has served to highlight just how precarious many peoples' existences are. For the less fortunate among us, the economic impact of what now appears to be an inevitable recession may be severe, while the social impact of social distancing or lock-down on already isolated or vulnerable individuals will also be significant. But there are signs of communities – including those in the vegan community – mobilising to address some of these challenges. Quite how the next few months are going to turn out is anyone's guess, but it is clear that we all need each other more than ever.
Have you seen examples of the vegan community in action responding to COVID-19? Let us know in the comments.
By John Andrews
The views expressed by our bloggers are not necessarily the views of The Vegan Society.