Europe is a thriving market for meat alternatives

Figures correct as of September 2019. For 2020 figures please see the 'Plant-based foods in Europe' report. 
Europe is a key player in the global meat alternative market, which was valued at $1,718.6 million in 2019 and is projected to expand at an estimated CAGR of 7.3% between 2020-2025. Nearly 70% of European plant-based consumers are eating meat alternatives several times a week, and recently, there has been an increasing number of vegan product launches across the region. The UK, Germany, France and Italy have the largest markets for meat substitutes within Europe due to larger proportions of vegan and vegetarian consumers.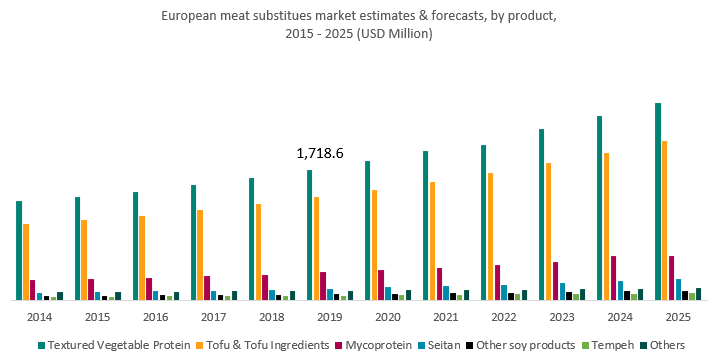 Which categories are growing the fastest?

Seitan may only account for approximately 4% of the European market, however, this product segment is growing with the highest estimated CAGR of 9.8% between 2020-2025. Valued at $70 million in 2019, this is likely to nearly double in value to approximately $125 million in 2025. Seitan is a wheat gluten product that originates from China. Due to its texture, seitan can replicate many types of products and has been gaining popularity throughout Western markets.
Mycoprotein is also estimated to grow with a strong CAGR. It is hugely popular in European countries, where Quorn is an established household name for many individuals. 
The category of other soy products consists of foods such as soy sauce and tamari, which typically replace stock in various dishes. Their share of the market appears small, as they characteristically have a longer shelf life and usage duration than the other categories. However, their widespread use in various cuisines means this segment is projected for strong growth in the coming years.
The tofu and tofu ingredients category holds a significant share of the European market. The diversity of tofu makes it a popular ingredient and consumers are attracted to its high protein content.
In 2019 the Textured Vegetable Protein (TVF) category, valued at approximately $760 million, held 44% of the whole European market for meat substitutes. This market dominance is set to continue to 2025, as it grows at an estimated CAGR of 7.1% between 2020-2025. TVF – also called soy protein, soy-meat or soy chunks – can be used as a replacement for many types of meat, which explains the high market share.
Tempeh has the lowest market share of all the meat alternatives in Europe. With an estimated CAGR of 6.7% between 2020-2025, it is expected to reach $44 million in 2025. Originating in Indonesia, it is a fermented soybean product that's full of protein and used for snacking as well as meals.   
Finally, we have the others category, which consists of vegan products which are not direct meat substitutes but are typically used in vegan cooking to add similar tastes and textures. This includes mushrooms, lentils, jackfruit, beans, falafel, aubergine, legumes and cauliflower, amongst others. Globally, Europe dominates this market, however this segment holds the lowest estimated CAGR.
Data from Grand View Research, Inc.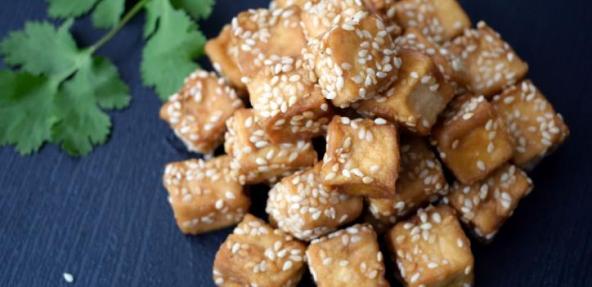 The UK market is set for incredible growth

Figures correct as of September 2019. For 2020...(Read More)