Friday, 23 September, 2022
For the first time, vegans can join chocolate lovers the world over in saying: 'It's Not Terry's, it's Ours!' as the prolific brand launches a new vegan bar.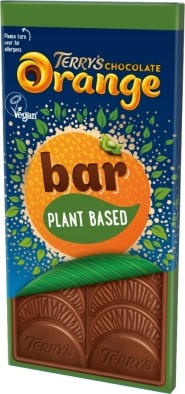 The Vegan Society is pleased to announce the new Terry's Chocolate Orange Plant Based Bar has been verified vegan by the charity's trademark certification, meaning vegans can rest assured that the product is free from animal ingredients and exploitation.
The newly certified bar means even more options for sweet-toothed vegans who are fans of the distinctive chocolate orange combo. And, not only is the bar vegan, its packaging is fully recyclable in the UK – meaning a win-win situation for eco-conscious consumers.
After deciding to create a vegan alternative to their most popular creation, the team at Terry's aimed to make the taste as close as possible to the original. Numerous recipes were tried and tested before the team landed on the final prototype which was created with rice syrup in place of dairy. The same real orange oil is used for the citrus notes crucial to the distinct Terry's taste.
Victoria MacDonald, Brand Manager at Terry's Chocolate Orange said: "Here at Terry's we are constantly looking to innovate, and we wanted to give our vegan and plant-based fans the opportunity to enjoy a dairy-alternative chocolate without compromising on the familiar taste of Terry's Chocolate Orange.
We want Terry's to be accessible to as many people as possible, so launching a plant-based Terry's bar was a must for us. We absolutely did not want to compromise on taste, and after months of development, we think we have found the perfect recipe."
The Vegan Trademark is managed by The Vegan Society who coined the term vegan in 1944 and established the Vegan Trademark over 30 years ago. Its robust standards ensure products are free from animal ingredients, animal exploitation, animal testing (at the initiative of the brand or on their behalf) and include minimal cross contamination.
Ericka Durgahee, Marketing Manager at The Vegan Society, added: "Each year, we see more and more brands catering to vegans and prioritising easy and tasty swaps from old favourites. Terry's bringing its Chocolate Orange Plant-Based Bar to the shelves this September is the latest news that will delight vegans who have missed this classic taste, especially during the festive season. I can't wait to try them!"
Terry's Chocolate Orange Plant-Based Bar is now available from Sainsbury's, Ocado, Nisa and other selected convenience stores. 
For more information on the trademark visit our Vegan Trademark web pages.