Thursday, 31 August, 2023
Bananatex®, a fabric brand with sustainability at its core, has recently had its range certified as vegan by The Vegan Society's Vegan Trademark.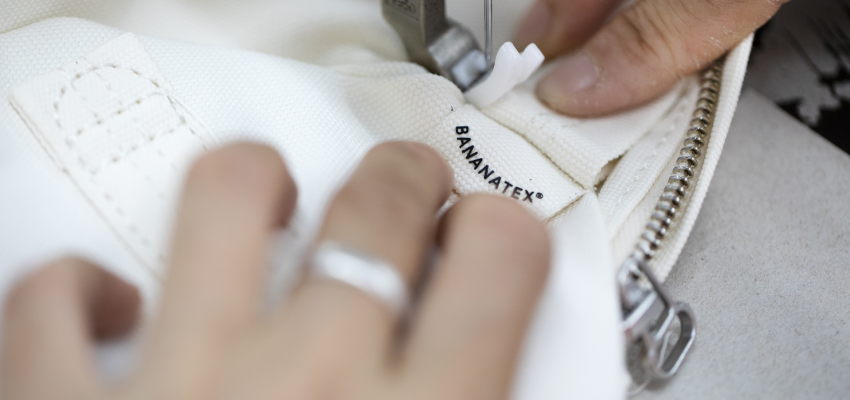 Bananatex® is the world's first durable, technical fabric made purely from the naturally grown Abacá banana plants. It was developed with environmental responsibility in mind - the Abacá is sturdy and self-sufficient, requiring no pesticides or extra water, qualities which have allowed it to contribute to reforestation in areas of former Philippine jungle.  
Bananatex® aims to offer a sustainable alternative to widely used synthetic fabrics, such as polyester. The brand, which already offered vegan options of their fabric with a regular finish and a water repellent treatment, has developed a plant-based coating which will replace their previous bees-wax coating, making the entire range vegan. 
Speaking of their choice to register with The Vegan Society's Vegan Trademark, Hannes Schoenegger, Co-Founder and CEO of Bananatex®, says: "Bananatex® was created as a fully circular textile innovation with a positive effect on nature, people and also animals. In order to prove that, The Vegan Society's Trademark is a meaningful certification for us and the different brands we are partnering with." 
The Vegan Trademark is globally recognised across multiple industries, including textiles and fashion, as well as food, drink and cosmetics. The Trademark's rigorous standards not only ensure that there are no animal-based ingredients in a product, but also that its ingredients have not been tested on animals, making it easier for consumers to make informed purchasing decisions. 
The vegan textile market looks set to continue to expand as brands search for more sustainable alternatives to products such as leather and polyester. A 2021 report by The Vegan Society – The Rise of Vegan Fashion – found that 48% of British shoppers want more vegan items across all fashion categories and Mintel reported that 57% of British shoppers are trying to make more ethical fashion choices.  
Acknowledging this trend, Jodie Brown, Certification Officer for The Vegan Trademark, commented: "Bananatex® is one of three brands who have registered fabrics with the Vegan Trademark this year. This is a really exciting development within the textiles industry and we hope registrations like Bananatex® ultimately lead to more vegan products being released into the market, which will show just how accessible vegan fashion can be!" 
Visit the Bananatex website to find our more.To read more about the Vegan Trademark visit The Vegan Society | The Vegan Trademark.