We know that affordability remains a focus for many during this time – to help with this we've been able to compile a list of useful budget tips from our members into a handy infographic – thank you to everyone who wrote in with their tips!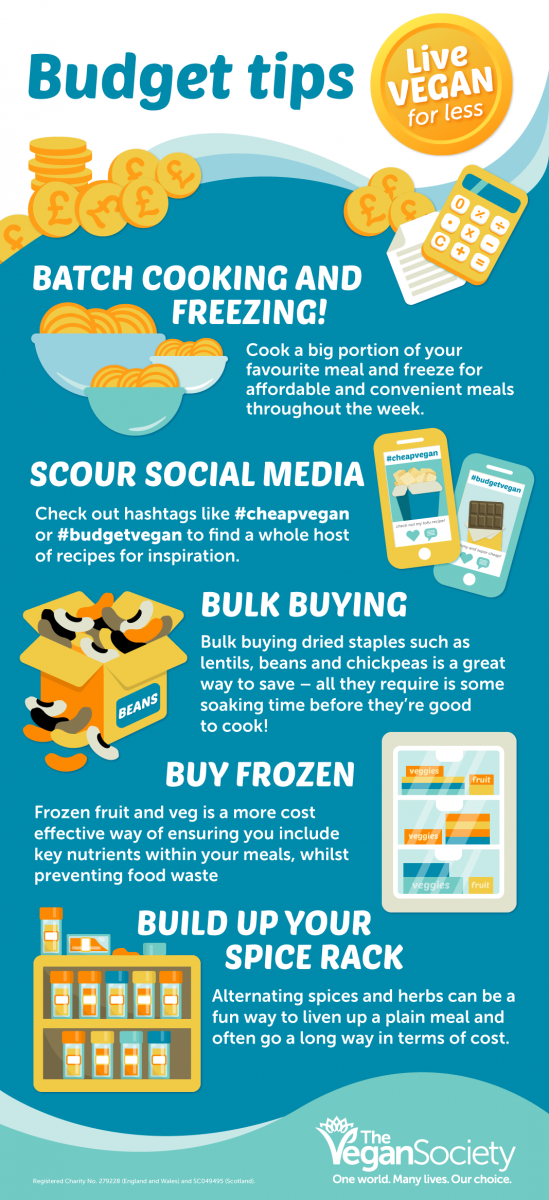 That's not all though – here are some additional tips to keep in mind to help you get the most out of your money:
Build your meals around filling staples like pasta, potatoes, rice and bread – we recommend wholemeal as it's healthier.
Instead of shopping in specialist free-from shops or aisles, look for accidentally-vegan goodies - this is a bit more of a treasure hunt, but you will likely find products which are far cheaper. Our tip is to follow vegan pages on Facebook or Instagram, which can often give you the low down on the latest accidentally vegan finds.
Don't feel you have to try all the latest vegan products. Plant-based equivalents to meat and cheese can be pricey – and while they're tasty there are other options which give you more bang for your buck.
Try out different shops - Asian supermarkets often have far cheaper tofu and jackfruit, for example. In a large supermarket, the World Foods section will often have cheaper nuts, coconut oil etc. than the other aisles.
With supply chains slightly less reliable than pre-pandemic, food prices are changing too. It's worth taking a fresh look at fruit and veg that you wouldn't ordinarily buy and see how it compares to your standard purchases. If you're buying from a greengrocer ask what's a good deal this week.
Grow your own. This might take some time investment, but can be a low cost return for fresh veg. Community Facebook groups often have people giving away free plants, and you can get creative with old plant milk cartons as planters on a windowsill - do ensure you maintain laws on social distancing however!
The views expressed by our bloggers are not necessarily the views of The Vegan Society.