Thursday, 7 November, 2019
The Mexborough and District Heritage Society is to honour the key founder of the vegan movement with a blue plaque at his old primary school to be unveiled at a ceremony this Saturday (9 November) at 12 noon.

The plaque for Donald Watson - who co-founded The Vegan Society in November 1944 and is the first person to use the word 'vegan' in print - will be unveiled by his nephew Dr Tim Cook at the New Pastures Primary School in Doncaster Road, Mexborough.
Members of the public and journalists are welcome to attend the ceremony.
The Vegan Society is celebrating its 75th anniversary this year with a new Vegan and Thriving campaign showing that a vegan diet is a healthy choice for people of all ages and life stages.
Watson, who himself led a healthy lifestyle that included hill walking in his 90s, said shortly before he died at the age of 95 in 2005: "It is not every day a movement is born which in its general application could revolutionise mankind."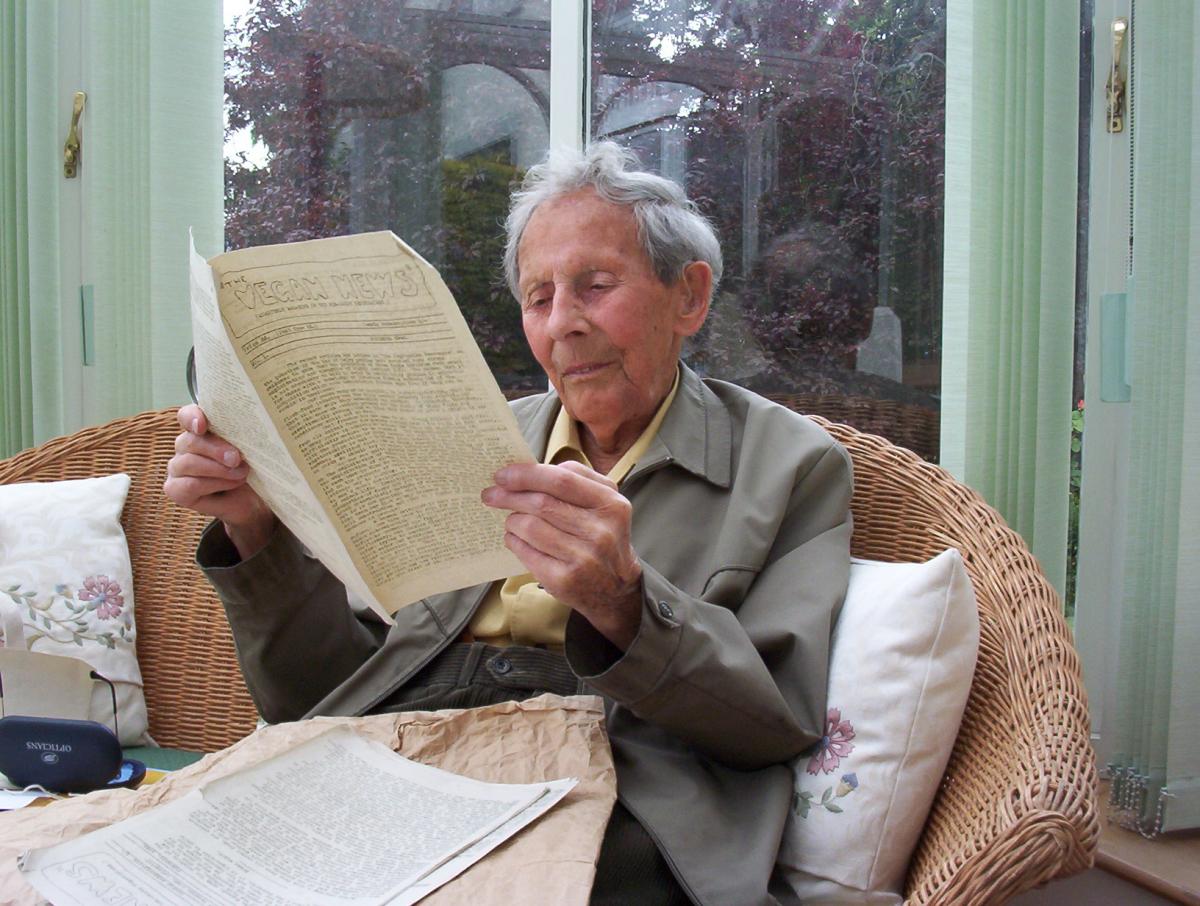 Watson reading the first issue of Vegan News. 
Donald Watson was an English animal rights advocate who attended Doncaster Road School, now New Pastures Primary School, where the plaque will be displayed.
Afterwards he attended Mexborough Secondary School, now Mexborough Business Centre in College Road, where a reception will be held after the ceremony.
The unveiling ceremony will be attended by Ed Miliband MP, Deputy Civic Mayor Cllr Paul Wray and Chair of The Vegan Society Board of Trustees Menna Jones, as well Mr Watson's son-in-law, nieces and a nephew.
The reception will include memories of his 'Uncle Don' from Dr Tim Cook, a selection of vegan poetry and a reading from Donald Watson's unpublished nature diaries by Dr Kate Stewart, Principle Lecturer in Sociology at Nottingham Trent University. Dr Stewart is working on a project to digitise and publish Mr Watson's personal papers.
Samantha Calvert, spokeswoman for The Vegan Society, said: "We are delighted that the Mexborough and District Heritage Society is paying tribute to one of the sons of Mexborough who has done so much to make the world a more compassionate place.
"This will be the first time that we are aware of that any of our founders has been honoured in this way.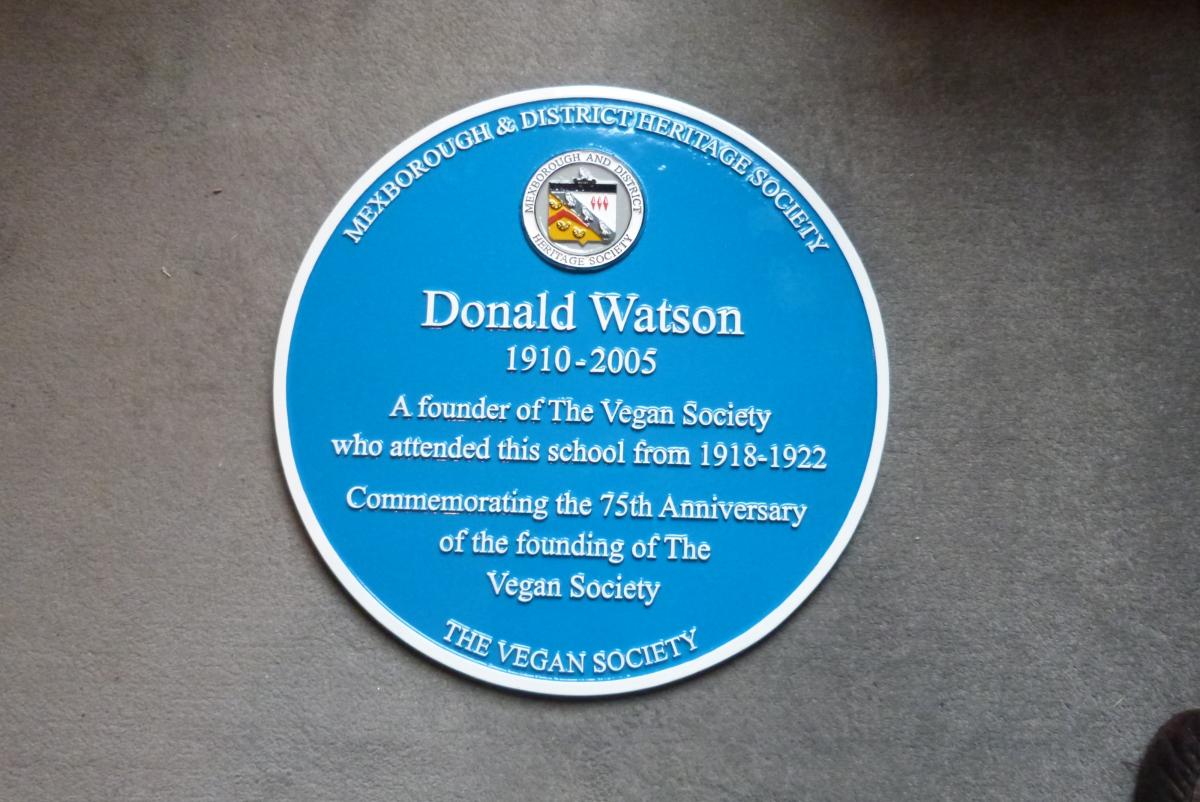 The plaque to be unveiled at Watson's primary school. 
"Donald Watson played a significant role in founding the modern vegan movement that is now this amazing worldwide movement.
"Veganism has never been more popular than it is today and all vegans owe a huge debt of gratitude to Donald Watson and the pioneering early members."
Just six people attended the meeting to found The Vegan Society in Holborn, London, and the membership of the Society totalled just 25 people. Today the number of vegans has quadrupled in the last five years alone to over 600,000 Britons.
The life of Donald Watson
Watson grew up in a town, surrounded by farmed animals. The slaughtering of a pig on his uncle's farm horrified him; he said his view of farm life changed from idyllic to a death row for animals.
He became vegetarian at the age of 14 after making a New Year's resolution and then became vegan in the early 1940s, having realised the production of milk-related products was unethical.
Watson was an acute observer of the natural order and perfection of creation, which became his inspiration and led him to question our relationship with other species.
A self-critical and free thinker, he always responded to his inner convictions, regardless of any personal inconvenience or difficulties this might involve.

Mountain walking in his 90s.
Watson lived to the age of 95, nearly 20 years older than the average age of death of males in the UK at the time. He once said: "Speaking from my old age, I sometimes think I've outlived my critics, and I can't remember the last time that I encountered one."
Commenting on the success of veganism, Watson said: "I seem to be taking on the world virtually single-handed, with no recognised qualifications other than a conviction that, with all the conceit I can muster, I am right, and they're all wrong!
"It's a dangerous state of mind, but one which, sooner or later, one can't dispel, and one has to go that way."