Those who think veganism is a modern fad should think again – this ethical lifestyle choice has just turned 75 today during World Vegan Day.

The special day commemorates the 75th anniversary of the founding of The Vegan Society in 1944 by Donald Watson and friends, who defined the word 'vegan' and started modern veganism.
Watson said shortly before he died at the ripe age of 95 in 2005: "It is not every day a movement is born which in its general application could revolutionise mankind."
We started with just 25 members in Holborn, London, in wartime Britain but the number of vegans has quadrupled in the last five years alone to over 600,000.
Louise Davies, our Head of Campaigns, Policy and Research, said: "It's incredible that the word 'vegan' didn't even exist until 75 years ago, but can now be seen on menus and products around the world.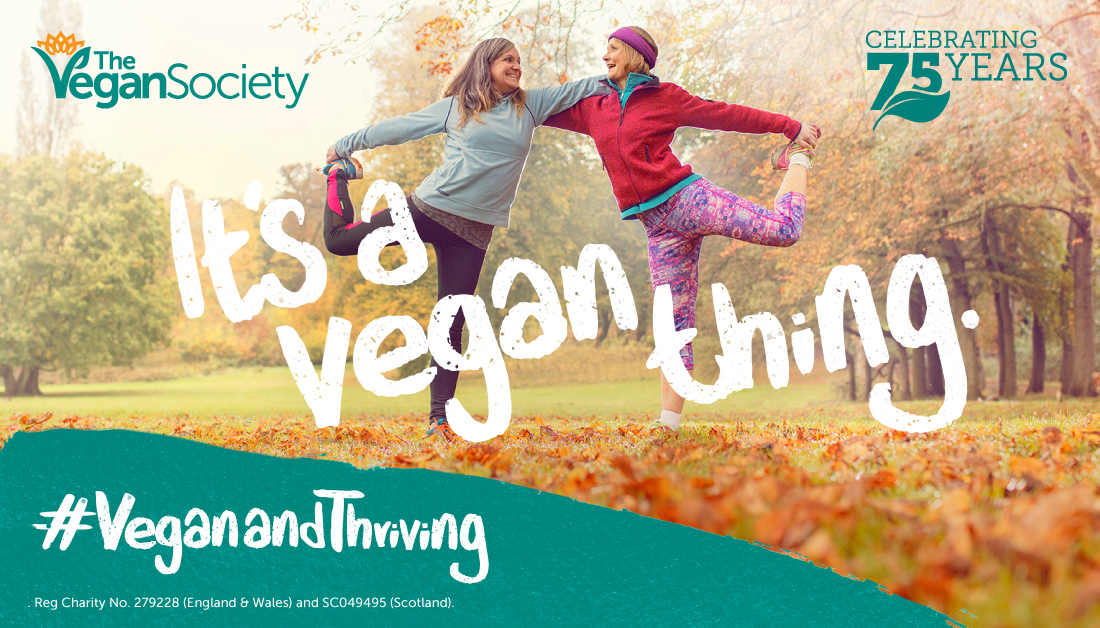 "We owe so much to the founding members of The Vegan Society – without them, modern veganism simply wouldn't be the same.
"The seed they passionately planted has grown widely and quickly, with millions of vegans around the globe now."
Vegan Society member Loretta Rowe is celebrating her 75th birthday in the same month and year as the charity was founded, and says she has never been healthier.
She added: "It's great to celebrate my birthday at the same time as The Vegan Society.  
"The organisation started long before the public consciousness was even beginning to stir on this vital issue, but it has grown so exponentially in all the services and leadership it provides."
Loretta became vegan three years ago together with husband Michael, 76, when they discovered the link between dairy consumption and prostate cancer.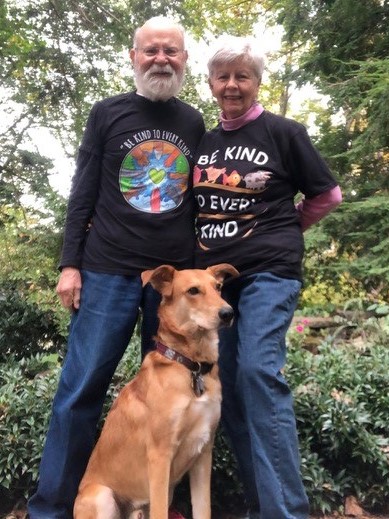 Michael and Loretta, wearing their vegan T-shirts, with their companion Luca
Michael initially lost 12 pounds in just two weeks on a healthy plant based diet and they both lost further excess weight after eating healthily for longer.
The couple are ambassadors for our new Vegan and Thriving campaign, proving that you can thrive as a vegan at any age or life stage.
Loretta said: "No food tastes as good as feeling healthy and fit, and not contributing to animal suffering."
"There is no reason not to be vegan," Michael added. "It's a win-win on so many levels – so why not try it? It's never too late to make a positive change!"  
Research shows 61% adults living a vegan lifestyle have switched within the last three years and a fifth of them in the last year alone.
This suggests the number of vegans will continue to rise exponentially as more people are exposed to ethical, environmental and health messages.
Michael added: "We became vegan gradually and struggled to adjust at the beginning. But when you think about how the animals feel, going vegan suddenly becomes the easiest thing in the world."
If becoming vegan has significantly benefitted your health, we are interested in hearing from you - please submit your experience here if you'd like to become our media contact.