Ali Ryland outlines the main issues affecting vegans living below the poverty line while giving tips on how to live vegan on a budget or help vegans in need.
It's World Hunger Day this Saturday – a day which immediately brings to mind the issues affecting the global south and the campaigns set up to address them. However, while world hunger must be alleviated by concerted effort from worldwide grassroots movements working in solidarity to end unjust food distribution, there are some things we can do now to address hunger in our own backyard. Currently 1/5 people live below the poverty line in Britain, while some have literally starved to death after having their benefits cut. 
Women, black and ethnic minority groups are particularly vulnerable to government budget cuts. The Vegan Society's recent Ipsos MORI survey suggested that a large proportion of British vegans are in the lowest income bracket; that there are twice as many vegan women as men; and that nearly a third of vegans are non-white, compared to 13% of the population of Britain. This is an issue that the media doesn't address: many vegans are struggling to get by financially, which is made harder when you can't make a pit stop at the only fast food outlet open in your area for a 99p burger after back to back night shifts.
The definition of veganism includes avoiding the exploitation of animals as far as is possible and practical, and for some it may not be possible or practical to always eat vegan food. Accepting non-vegan products or dumpster diving is often the only way to get by. You can imagine that this may cause distress for vegans in difficult situations, as it would have done for the middle aged man I met at a vegan festival who was currently homeless. He was adamant to stick to a vegan diet, and we all sent him off with bags full of vegan goodies that day. However, Ten Acre crisps and Goody Good Stuff sweets are not what we should be living off, tasty as they may be. When you're poor, you may not be as able to take care of yourself as well as you may want to, whether you're vegan or not.
Being vegan though, you do have to watch your Vitamin B12 intake, and you may not have good access to fortified foods. Remember, there is the possibility of receiving free B12 shots from the NHS. Other than this, we're fortunate in the fact that the cheapest and most nutritious foods are plant-based, hence why many of the poorest people around the world eat vegan. Check out our tips on how to do so, as well as these other resources.
How to help 
If you're not struggling financially, there are many ways you can help. Food banks are an important resource for people in need, though there is a dearth of specifically vegan products such as B12 fortified soy milk, fortified nutritional yeast, fortified cereal, etc. As well as supplying your local food bank with these items, look at bringing in filling vegetable soups, curries and chilis in cans. Take in nuts and dried figs for calcium and selenium, rapeseed oil, walnuts and ground flaxseed for omega-3 and seaweed for iodine.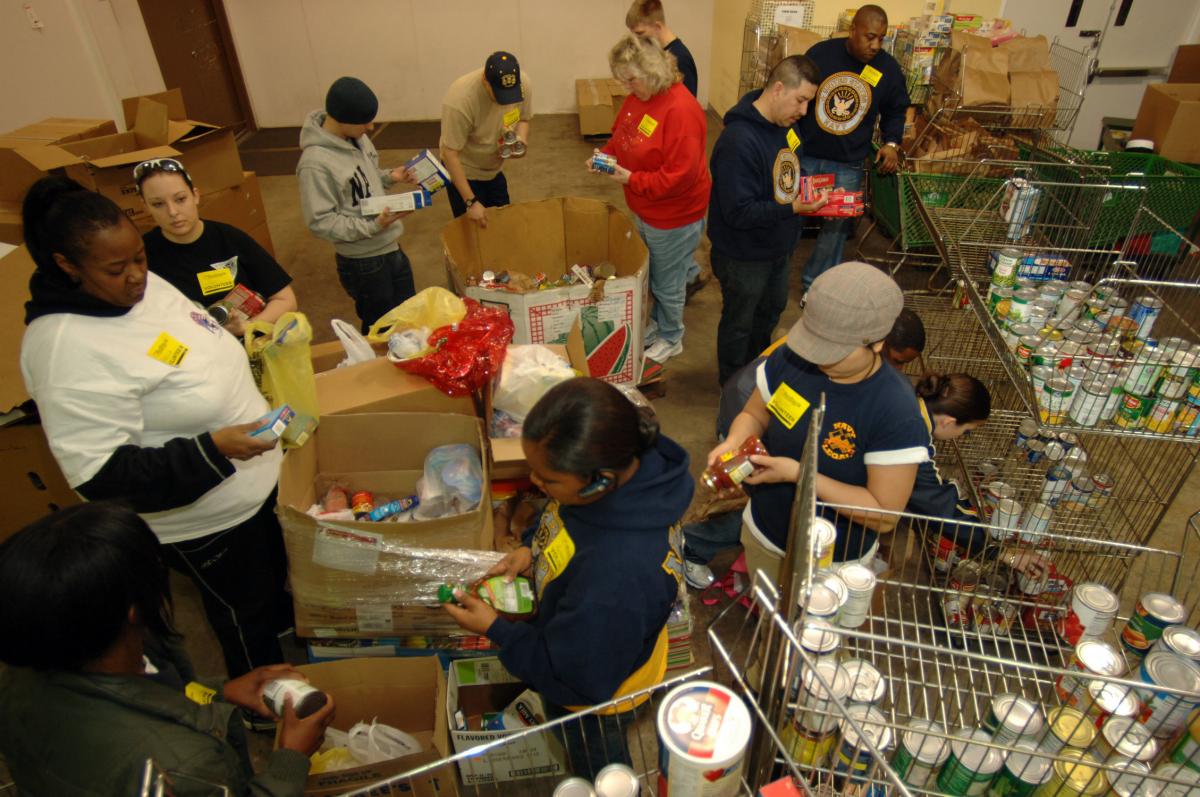 If you know that there are many vegans struggling in your area it may be worth setting up a vegan food bank yourself, in order to target those who need these particular foods the most. Another way would be to set up a non-profit food co-op so you can bulk order from places such as Suma, then sell these to vegans at the reduced prices. 
Other ways include getting involved in your local Food Not Bombs group or equivalent. Food Not Bombs tend to cook vegetarian and vegan food already, and give it out to the local homeless. There is likely to be one in your area, or you could start your own.
Remember to give to your local shelter too. Practical clothes and underwear are often needed, while pads (cloth and otherwise), tampons and menstrual cups would be a good shout.
Vegan on a budget: tips and testimonies
If you're grappling with money issues and not sure how you can afford to be vegan, then we've got some good news: it's easier than you may think. Check out how other people have managed below.
Natalie's story
"When I was on Jobseeker's Allowance I was left with only £6 a week to spend on food," says Natalie from Brighton. "The only way I was possibly able to afford this was to eat vegan food. It was impossible to afford cheese, milk or eggs, but I could make large batches of meals within my budget by concentrating on filling grains and pulses, and cheap vegetables and beans. Now I can feed 25 people a complete meal for £6."
Natalie found it easier to live vegan than vegetarian because spreads like Vitalite are cheaper and longer lasting than butter, while cheese and eggs remain expensive. "It wasn't a conscious decision to go vegan initially, but after 6 months of realising I'd done it without noticing, I decided to carry on."
Feed 25 people for £6: recipe
1kg brown onions – 59p (sliced)
500g dried chickpeas - £1
2.5kg potatoes - £2 (cubed)
Tube of tomato puree – 35p
Bulb of garlic – 30p (minced)
Curry powder - £1
2kg rice - £2
Method
Soak chickpeas overnight.
Fry onions, add garlic and curry powder (to taste) when softened.
Add potatoes and chickpeas, a pinch of salt and enough boiling water to cover.
Add tomato puree and simmer until reduced.
Serve with rice.
Natalie's additional tips
This recipe is really easily scaled up or down and, obviously, the more you make the cheaper it gets. It can also be adapted according to your budget and what you already have in (feel free to use tinned or fresh tomatoes, chillies, the spices you have knocking about at the back of the cupboard, other veg or dried pulses, etc.). The prices given are, although approximate, all available in UK supermarkets without having to rely on special deals. You may find special deals which reduce the price, or conversely, your local supermarket may be more expensive. Again, regarding economies of scale, you can likely reduce the price of most of the ingredients by buying in bulk if you have the money for the initial outlay (i.e. a 2kg bag of dried chickpeas will be cheaper than four 500g bags – although the outlay can be difficult). If you have an Asian supermarket near you, it's worth going there for the spices and chickpeas, and when buying tinned tomatoes, pulses, beans and rice, they're almost always cheaper in the 'World Food' aisle of the supermarket than the tinned goods aisle.
Sarah's story
While living in London Sarah was forced to cope with rising rent prices and stagnant wages. Luckily she lived in Brixton, where very cheap fresh fruit and veg markets abounded – they even give some away at the end of the day. "I got to know the stall holders by shopping there. I just bought what veggies I needed each day and added them together with a can of beans and some flavourings as a tasty stew to have with rice."
Sarah also recommends getting creative with sweet treats by mixing crushed cornflakes with peanut butter and some sugar, freezing then coating in Lidl's 38p 100g bar of dark chocolate, melted.  
Sarah's additional tips
• If you have a freezer fill it with frozen veggies so you can get peas, sweetcorn, cauliflower and spinach. Much cheaper than fresh and easy to prepare.
• Lidl and Aldi are your friends.
• Shop around – different places carry different deals at different times, but be aware and do the maths, sometimes deals are not actually that great – look at price per weight
• Buy in-season fruit and veg – it will be cheaper and taste loads better
• Beans, lentils and legumes are a great source of cheap protein
• Buy own brand rice, pasta etc. Get wholemeal if possible – more fibre and higher nutrient content. Buy as much as you can afford to benefit from the discount on larger packs
• Tinned food can often be better than fresh, especially beans and tomatoes
• Go to Chinese food stores for big bottles of soy sauce and servings of tofu as well as packet noodles – make sure the stock mix is vegan!
• Coconut milk, spices and curry pastes are often cheaper in an Indian store than in a supermarket
• A cheap hand held blender can be bought for a fiver and will make your soups, sauces and smoothies to use up older veggies and fruit
• Club together with friends to buy in bulk online – packs of nutritional yeast, vital wheat gluten etc
• Learn how to make Seitan – packs a punch of protein for very little money (I love the recipe from the Veganomicon but there are lots online
Verity's story
"My benefits have been frozen with 0% increase this year in spite of the government's promise not to cap disability benefits. They evidently have. I get Employment and Support Allowance Support Group which is exclusively for degenerative and lifetime conditions: for disabled persons."
Verity finds that using a spreadsheet each fortnight she gets paid has helped, and reminds those eligible to apply for council tax discretionary assistance and the warm home discount, which she receives through Co-op energy, her supplier. 
"Don't be afraid to negotiate with bills. I now pay nearly all bills fortnightly, halving them to spread the cost and better budget. Haggle with providers when renewal dates come around, and move providers to get the best deal."
Verity also saves money in other ways, such as growing her own veg, which in turn offers therapeutic benefits. "Being a vegan on a budget means prioritising. It's buying when items are on offer and not always shopping at the same supermarket. Make the most of the Internet and do comparison shopping." Verity also buys in bulk where she can, ordering from Earthfare in Glastonbury.  "Because for me being vegan is very much a lifestyle I merged my vegan food blog with my wellbeing and lifestyle blog: three into one," she says.
Verity's very cheap meal plan
Verity took part in the Living Below the Line challenge last year and below outlines her meal plan for the week. She bought all of the 21 ingredients in ASDA, which came to £4.99.
Day 1 
• Banana and oats smoothie
• Soup with red onion oatcakes
• Mushrooms and chickpeas  with ASDA's mild curry sauce and rice
Day 2  
• Banana and oats breakfast cookies
• Salsa with red onion oatcakes
• Potato dhal and rice with onion bhaji
Day 3
• Oat flapjacks with banana
• Soup with red onion oatcakes
• Mushrooms and chickpeas with ASDA's mild curry sauce and rice
Day 4
• Banana and oats smoothie
• Salsa with red onion oatcakes
• New potatoes and red bean burger
Day 5
• Oat flapjacks with banana
• Soup with red onion oatcakes
• Potato wedges with red bean burgers
Making the meal plan: recipes
Scottish oatcakes
Makes 18-20
Ingredients  
200g porridge oats
1 tsp salt
1 tsp cracked black pepper
50ml extra virgin olive oil
A little boiling water
Method
Take half of your porridge oats and tip them into a food processor, along with the salt and pepper. Or use a hand blender.
Whizz until relatively fine and tip into a mixing bowl.
Add the remaining porridge oats into the mixing bowl, stir briefly and pour in the olive oil.
Incorporate the olive oil a little before pouring in a little boiling water – around 2-3 tbsp – enough to transform your oats into a soft, malleable dough.
Gently knead your dough for 30 seconds, turn out onto a lightly floured surface and roll gently until 5mm thick.
Take a 6cm round cutter and cut out 18-20 oatcakes.
Preheat the oven to 160C/180C(fan).
Pop the oatcakes onto a lined baking tray and bake for around 15 minutes, until they are crisp and a little browned.
Banana flapjacks
Makes 12
Ingredients
300g oats
100g dried apricots
70g raisins
30g dried cranberries
50g almonds
50g sunflower seeds
50g vegan margarine
3 tbsp crunchy peanut butter
2 bananas, mashed
1 apple, peeled & grated
100ml hot water
Method
Preheat the oven to 160C/140C(fan).
Grease and line a 20x20cm baking tin.
Gently toast the seeds and almonds in a heavy based pan.
Transfer them to a large mixing bowl, along with the oats and dried fruit.
Melt the margarine over a low heat, along with the peanut butter.
Add the bananas, apple and water.
Pour the wet mixture into the mixing bowl and combine thoroughly.
Transfer the batter into the prepared tin and smooth.
Bake for 50-60 minutes until golden brown.
Once removed from the oven allow to cool for 10 minutes before turning out onto a wire rack.
Leave to cool completely before cutting into 12.
These flapjacks will keep well in the fridge for around 5 days, should they last that long.
Onion bhajis
Makes 10-12
Ingredients
1 white onion, finely sliced
1 red onion, finely sliced
2 cloves of garlic, mashed
1 thumb of ginger, finely chopped

½ tsp turmeric
½ tsp garam masala
1 tsp chilli flakes
1 tsp ground cumin
100g gram flour
60-80ml water
Sunflower or vegetable oil
Salt
Method
Slice the onions and put them in a large mixing bowl, separate each individual slice.
Add all of the spices, garlic, ginger, gram flour and salt and mix it around a little.
Add 1 tbsp of sunflower oil and 60ml of water. Mix it all together and add a little more water if the mixture isn't loose enough – the batter should adequately coat the onion.
Heat 4-5 tbsp of sunflower oil in a thick based pan over a medium heat.
Once at temperature, take a little of the mixture and place it into the oil.
Fry until golden brown on each side, allow enough time to cook through.
Soak up any excess oil with kitchen roll.
Everything about onion bhajis is frugal; onions and gram flour are exceedingly cheap. Indeed, the entire batch, enough for 3-4 people, should set one back no more than 80p!
Potato dhal
Ingredients
1 small sweet potato, skinned
1 small onion, finely chopped
3 garlic cloves, minced red pepper flakes
1/4 tsp turmeric
1/4 tsp garam masala
1 cup vegetable broth
1/2 cup red lentils
4 cups spinach, or more salt, to taste
Method
Dice sweet potato into small ½-inch cubes, and set aside.
Line a medium pot with a thin layer of water and saute onions and garlic for a minute.
Add a pinch or two red pepper flakes and continue to cook until all the water has cooked off.
Add turmeric, ¼ tsp garam masala and stir to coat.
Add 1 cup broth, uncooked lentils, and bring to a boil. Once boiling reduce to low, cover, and simmer for about 5 minutes. 
Add sweet potatoes, bring to a boil again and reduce to low and simmer, until lentils are fully cooked (they expand and the sauce thickens), about 5 minutes more.
Check periodically to see if you need additional broth (I tend to add an extra ½ cup but it can vary).
Once lentils are cooked and sweet potatoes are fork tender, taste, adding more garam masala as desired (I like to add another ¼ tsp but some blends are stronger than others).
Add spinach, continuing to stir until spinach cooks down and softens.
Add salt to taste and serve.
Other resources
By Ali Ryland, Web and Digital Communications Officer at The Vegan Society
The views expressed by our bloggers are not necessarily the views of The Vegan Society.