Wednesday, 2 November, 2022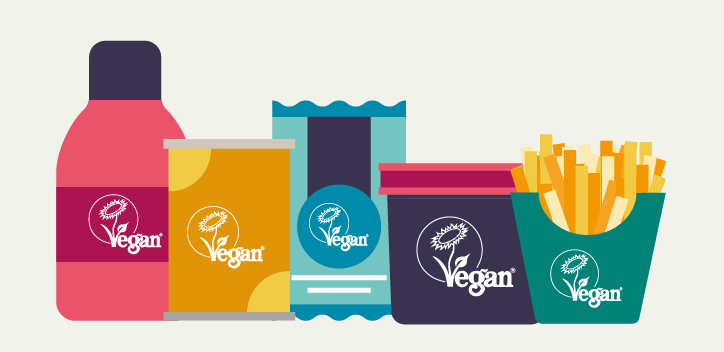 It's hard to believe but the term 'vegan' is 78-years-old this year. And, thankfully, long gone are the days of vegans taking their own soy milk into coffee shops or driving miles to an obscure supermarket to pick up some tofu - it's never been easier to be vegan! And, while every day there seems to be new vegan fare hitting supermarket shelves and menus, since 1990 there's always been one consistent presence - The Vegan Society's Vegan Trademark.  
Vegan roots  

 One day in November 1944, six 'non-vegetarians' with a vision to create a 'Vegantopia', sat down to realise their dream. It was at this point when the group felt a new word was required to describe them, eventually settling on 'vegan'. In the words of Donald Watson, credited with founding the society, it marked "the beginning and end of vegetarian".    
The first newsletter went out to 25 people in exchange for five shillings a year. The number of recipients had soared to 500 by 1945, which proved exhausting for Mr Watson who stepped down as secretary to become, instead, the president of the society and its first life member.   
The group was finally registered as a charity in 1964.  
The Vegan Trademark's humble beginnings  

The first reference to the trademark appeared in 1986 when advice was sought from solicitors on registering a trademark for the society. At around the same time, a cosmetics company, known as Crescent, wrote to the society, wishing to support its aims by selling products with its approval. A draft 'merchandising agreement' was created but it's unclear whether products were licensed in this period. 
The Vegan Trademark as we know it today was officially announced in a media release in February 1990 describing its "no animal ingredients, no animal testing" criteria, to assure buyers that no animal suffered during any stage of the products' creation. 
Natural cleaning product company BioD was among the first five trademark-holders to register products under the now iconic sunflower logo and remains a loyal client today. Further to its certified washing powder and soaps, the trademark spans across all manner of BioD items from dishwasher powder and floor cleaner to limescale remover. 
Driving a vegan future  

 Now, more than three decades later, the charity has over 60,000 products registered under the trademark in all corners of the globe, traversing markets from food and fashion to cleaning and cosmetics.  
Popular vegan brands which have joined forces with us include ethical chocolate company Doisy and Dam, vegan recipe-creating duo Bosh and plant-based food company Frys among hundreds of others.  
And to prove that veganism is making waves across mainstream culture, prolific brands including high-street fashion giant New Look and pioneering ethical cosmetic company The Body Shop, as well as popular confectionary brands Krispy Kreme Donuts and Terry's Chocolate Orange have registered ranges and products with the Vegan Trademark. 
In 2019, New Look became the first fashion high-street retailer to register shoes, bags and accessory ranges for the first time, allowing its shoppers the choice to shop more compassionately, without compromising on their style. 
And last year, The Body Shop became the first global beauty brand to pledge to be 100% Vegan Trademark certified by the end of 2023, to strengthen its commitment to people, animals and the planet.  
Meanwhile, sweet-toothed vegans are also getting a look in, with Krispy Kreme introducing the world to, not one, but three trademarked vegan doughnuts in January, while Terry's ensured vegans were no longer missing out on its distinctive chocolate orange combo, releasing the plant-based bar well in time for Christmas 2022. 
Vegan innovators 

As well as commitment from major trail-blazing brands, this year, the Vegan Trademark has also laid claim to some world firsts including the registration of vegan paracetamol, a vegan violin, bamboo flooring and packaging.   
The milestone certification was granted to packaging company Smurfit Kappa – the first of its kind to register a product with the society – while earlier this year, musician Padraig O'Dubhlaoidh registered his vegan violin. The body of the instrument, which usually contains animal parts from hooves and horsehair, to bones and cow innards, included plant-based adhesives as well as natural dyes from berries.  
If that wasn't enough, German pharmaceutical company Axunio registered Paraveganio -  the world's first vegan Paracetamol. The widely-used painkiller usually contains ingredients from animal origin. However, Paraveganio replaces typically animal-derived components with plant-based alternatives, guaranteeing consumers an animal and cruelty-free painkiller.   
Also following the long lists of Vegan Trademark 'firsts' this year was the registration of The Bamboo Flooring Company, illustrating the fact that veganism is a value which is relevant across all aspects of lifestyle – including interior design! 
Over the decades, the trademark has demonstrated its integral role in providing assurance to vegans the world over and highlighting the extent to which animals are commodified in everyday life. Most importantly, it means every certification is a step closer to the kinder world envisaged by Donald Watson and his associates, nearly 80 years ago.  
The views expressed by our bloggers are not necessarily the views of The Vegan Society.