Wednesday, 1 November, 2023
Kicking off with World Vegan Day on 1 November, find out what celebrations we have in store!

World Vegan Day was created in 1994 to mark the 50th anniversary of The Vegan Society, and takes place annually on 1 November. Kicking off 30 days of celebrations for World Vegan Month it's a time to recognise how far the vegan movement has come, while always working towards our goal of a vegan world. 
Next year's World Vegan Month (2024) will mark The Vegan Society's 80th anniversary, and launch a year of celebrations, activities and events. We want to use this opportunity to spread our message far and wide, and to support more people than ever on their vegan journey.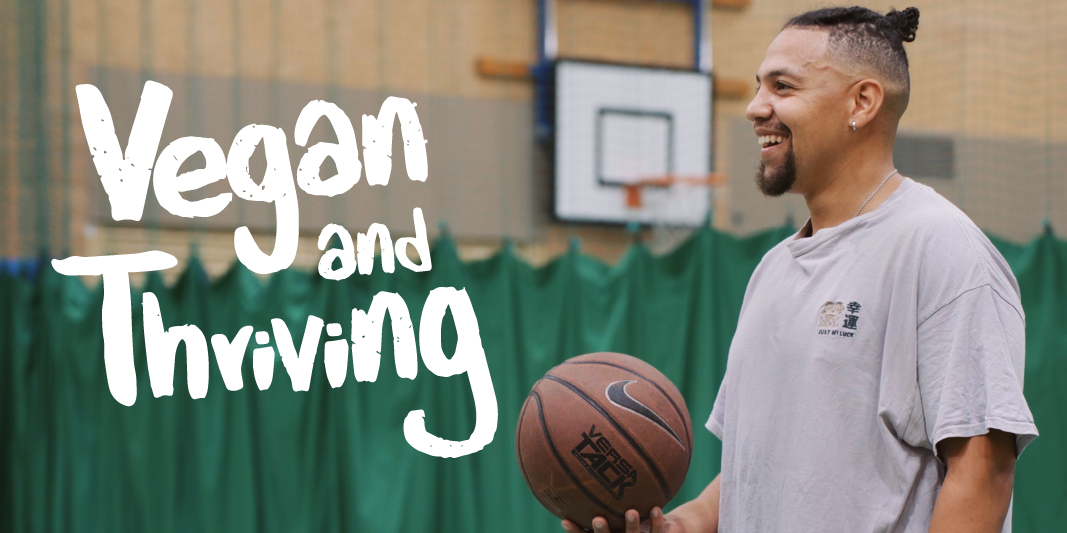 Vegan and Thriving 

This World Vegan Month we are relaunching our Vegan and Thriving campaign. Vegan and Thriving demonstrates that you can feel your best, and fuel an active lifestyle on a vegan diet. We have a packed month planned, with plenty of new content, all created with the aim of helping you to make the most of a plant-based diet. 
Look out for… 
Powerful new video content which challenges stereotypes on veganism and masculinity and sparks positive debate        
Tasty and nutritionally balanced recipes 
Expert nutrition information in bite-sized video chunks, from our in-house dietitian 
Blogs written by dietitians including topics such as delicious breakfasts to start your day, and how to feed active vegan kids 
Keep an eye on our website, newsletter and social channels to be the first to see the above, and more. 
Breaking stereotypes 

We are launching the campaign with a short film and a series of videos which are designed to challenge the stereotype of what it means to be vegan, specifically in relation to masculinity. This is because the overwhelming majority of the UK vegan population are women. 
In these films, we're showcasing stories from several incredible vegan men from different professions, backgrounds and walks of life, who share how veganism forms an important part of their identity and relates to their masculinity. There are a couple of cameos from their companion animals too. 
Follow #VeganAndThriving and #BuiltForKindness to stay up to date with the latest content and developments. Share our fantastic new videos with your friends and family, and why not post your own #VeganAndThriving story? Let the world know what Vegan and Thriving means to you. 
The Vegan Trademark 

November is a big month for The Vegan Society. Every year we celebrate our birthday through various campaigns and activities. Our longest-running campaign, the Vegan Trademark, has been going for 33 years and has helped vegan and non-vegans alike to easily identify products that have not been tested on animals and that have not involved the use of animal ingredients or byproducts. 
The Vegan Trademark helps to raise awareness that a vegan lifestyle goes far beyond food. We also register toiletries, cosmetics, footwear, healthcare and household products. With over 67,000 products now registered with the trademark across the world, we continue to spread the vegan message far and wide, and make it easier for people to make everyday decisions that are in line with their values. 
This year, we want to share with you how accessible and varied a vegan lifestyle can be. There are numerous products to choose from, whether you are shopping for your children, your older friends or relatives or a soon-to-be parent; there are products suitable for all ages and stages of life. 
Follow us on Twitter, Instagram and TikTok for all of the latest updates about how you can get involved, and look out for the Vegan Trademark. 
Do you have a favourite product that is registered with the Vegan Trademark? Make sure to tag us in any posts and join us in our month-long celebration of veganism. 
Support our work 

During World Vegan Month, as well as celebrating the founding of The Vegan Society we celebrate our members' support for our work over the years. 
In November 1944 we started with 25 members, and four months later this had grown to 48. Since then, thousands have joined as members to support us and add their voices to ours in the quest to bring veganism to the mainstream. 
After Vegan Society founder Donald Watson's quarterly newsletter, The Vegan News, was first published on 1 November 1944, 82 people subscribed to receive all four copies by the time the second newsletter was published. In 1945, it was renamed The Vegan and today is a vibrant magazine, bursting with a variety of features. Member Alwynne said, "I love the mag which I devour and pass on."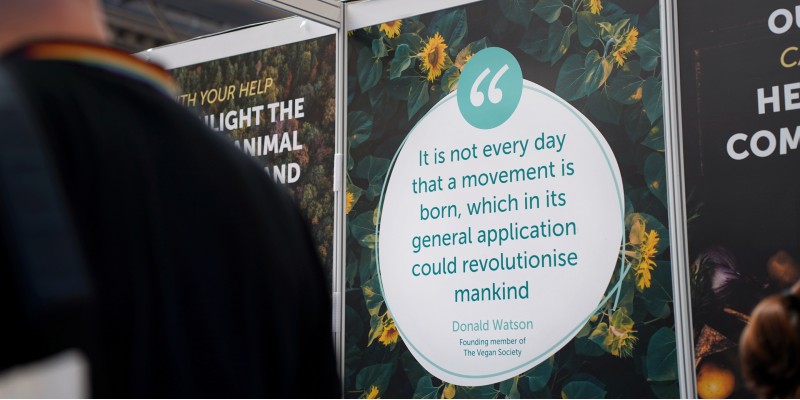 Access to The Vegan is one of many member benefits, including reading the magazine's very first issues as The Vegan News in the 'V Museum' section of the Members' Area. Member Diana said, "I really enjoyed reading the material in the archive, particularly the first few editions of The Vegan. What pioneers they all were!" 
Join us as a member this World Vegan Month and keep the legacy alive. 

New to veganism?  

Check out our free VeGuide app – you'll find helpful videos, recipes, tips, daily quizzes and more – it's everything you need to start your vegan journey. Available on iOS and Android.  
The views expressed by our bloggers are not necessarily the views of The Vegan Society.