What does 'thriving' mean to you? We think it's the perfect word to describe feeling great physically and mentally. Whether you're a new vegan, a seasoned pro or just interested in making changes to your lifestyle, we all deserve to eat well and feel great. We created Vegan and Thriving to highlight how fantastic a vegan lifestyle can make us feel and to help you get the most out of a vegan diet, whatever your age or lifestyle.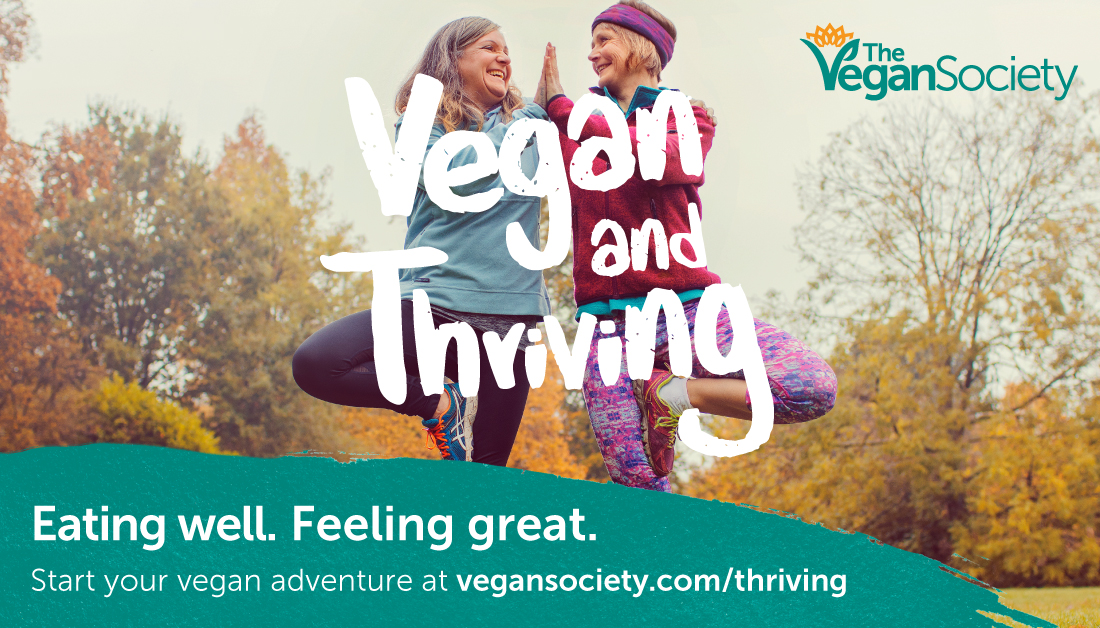 New recipes 

Food has a huge impact on our wellbeing and how we feel through the day. We've worked together with some fantastic recipe developers, as well as our incredible dietitians, to create six new delicious and nutritionally balanced recipes. From Bombay Burritos to Feel-Good Laksa Noodle Curry, these recipe ideas show that as vegans we don't need to compromise on flavour.  
Stephen Elliott presents our snappy new recipe videos and shows you exactly how easy it is to make the new dishes. Stephen says, "The meals are all so tasty, and really straightforward too. I've made several of the recipes since filming. The falafel burgers are so easy – you can just dump the ingredients in the blender. The tofu pancakes with plum sauce was my family's favourite. I made them again recently and I had leftover pineapple in the fridge, so I swapped the plum sauce for pineapple and chilli." 
We've also added some recipes from superstars of the vegan movement. Check out Omari McQueen's Chickpea Curry and these Loaded Sweet Potato Wedges from Roxy and Ben at SO VEGAN.
Thriving stories 

Vegans can do incredible things. We're delighted to be working with the wonderful Kate Strong who is attempting three static bike world records on 26 May. Kate is dedicating this challenge to Vegan and Thriving. Read up on Kate's challenge, and find out about her impressive plans for the future. 
Jamal Ledoux is a professional boxer and musician who is gearing up to fight for the English middleweight title once Covid-19 restrictions allow. In his article, Jamal outlines how his vegan diet allows him to keep up with his rigorous training regime, and shares some of his favourite meals to fuel his incredibly active lifestyle. 
Wanausha Campbell is a mum of three who works full-time and is also studying for her Master's degree – but that doesn't stop her fitting in her own athletic challenges. Wanausha says, "I've got three ultramarathons booked in for this year. I don't do things by halves, which is good and also a bit stupid maybe! It's slightly crazy – the races are over 60 miles long. But I do really enjoy it. I get to run away from my husband and kids and spend the whole time eating. What's not to love?" 
Dietitian advice 

When it comes to something as important as nutrition, we know that it's vital that we hear from the experts. We have worked with some amazing dietitians who fully support the vegan lifestyle, to create six handy videos focusing on key topics for vegan nutrition. Whether you're interested in how to get enough protein, calcium or iron into your diet, or have questions about vegan diets for older adults or children, we've got you covered.  
Are you vegan and thriving? 

Has going vegan improved your physical or mental wellbeing? Do you have an interesting story to tell? Perhaps you're training for an athletic challenge, or have discovered a passion for making balanced vegan meals from scratch. We'd love to hear from you – please do get in touch and share your story. 
And finally, share our new recipes and resources far and wide, and help us to support more people than ever to thrive as a vegan. 
The views expressed by our bloggers are not necessarily the views of The Vegan Society.