Vegan Society Member, Annie Button, explores the key to hosting a successful vegan-friendly celebration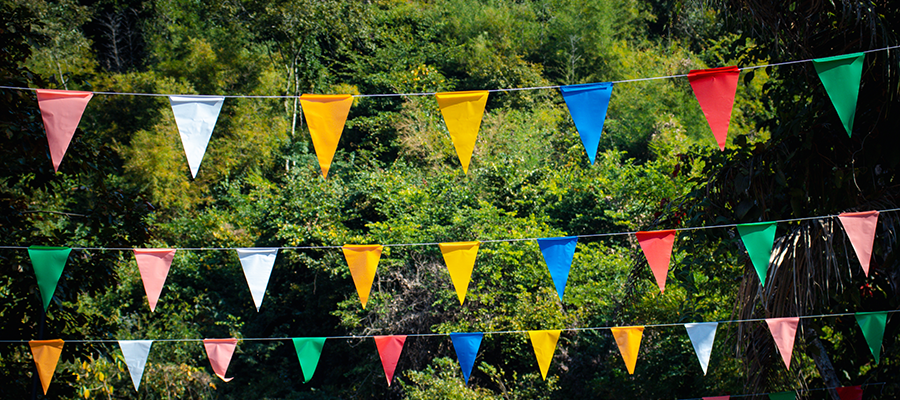 A vegan-friendly get-together doesn't have to be difficult or require you to eliminate your favourite traditions. You can make healthier, more sustainable versions of classic party fare, focusing on fresh whole foods and opening people's minds to just how satisfying vegan dishes can be.
The key to success is planning a balanced menu, using themes and activities to set the right atmosphere, and accommodating different dietary needs while avoiding an all or nothing approach. With the right blend of familiar and new options, your vegan-friendly celebration will bring everyone together, without relying on any animal products.
Choose a theme

Knowing where to start when putting together food for a party can be overwhelming, with so many options to choose from. But deciding on a theme makes it easier to narrow down your recipe search and gives you a starting point for decorations. For example, you could choose a Mexican-themed party with veganised versions of bite-sized tacos and nachos topped with melted vegan cheese paired with citrusy margaritas. Or perhaps you could put on a classic afternoon tea party, complete with petit fours, cupcakes and iced biscuits that guests of all ages will enjoy.
Plan your decorations wisely

It's not just the food and drinks you need to think about when you're planning a vegan celebration, but also the decorations. If you're preparing a venue for an event, chances are you'll want to decorate the space, so choose decorations that are made from vegan-friendly materials. For example, you want to avoid using materials like silk that might be found in artificial flowers, and if you're using candles, make sure they're not made from beeswax.
Outsource one element

Planning and preparing food for a large gathering is a lot to take on, so it can take some of the pressure off by having someone else take on a few of the bigger jobs. For example, if the celebration calls for a centrepiece cake, why not outsource this with a local bakery who can create a showstopping cake in delicious flavours to wow your guests? Some bakeries will accommodate vegan diets as well as other dietary requirements such as gluten-free. Or maybe you outsource the drinks so you don't need to liaise with the guests as to who is drinking what. It can help ease the burden of preparing food if you have the confidence that one, or more, of the elements are being taken care of.
Prepare vegan-friendly favourites for all your guests

Your guest list may not comprise exclusively of vegans, so finding out some of their favourite dishes and making them vegan can be a great compromise, and encourages people to try vegan food if they haven't before.
Maybe you have a guest arriving who adores macaroni cheese – why not make a vegan version that they can try that will rival the original? Or maybe you and your friends often go out for pizza, in which case you could create several large pizzas with their go-to toppings that everyone can tuck into. From cosy meals to shareable favourites like burgers, veganising popular dishes will ensure everyone has something to try and no-one will go hungry.
Don't forget the drinks

Something non-vegans may not realise is that many brands of alcohol aren't actually vegan-friendly. Some alcohols like certain beers and wines are processed with animal ingredients such as gelatine, isinglass and egg whites, so make sure that any beverages you serve up on the day are safe for those avoiding animal products. Most distilled spirits such as rum, vodka and whiskey are vegan, but it's important to check beforehand to make sure you're not unwittingly serving your guests something they can't drink.
Add plenty of variety

Variety is essential to a well-balanced party and the key to a successful event. And while many people think a vegan lifestyle is limited, nothing could be further from the truth. A plant-based menu can be incredibly diverse and creative, you just need to ensure you're covering all bases. For example, in addition to the main dishes you're serving, it might be worth having a faux cheese board with different options for guests to try, along with two or three dessert options that will cater to all tastes and preferences. Add several options, from snacks and appetisers to sweet treats at the end of the party, so everyone is catered for.
Use meat alternatives

Meat and fish are widely regarded as the most common protein sources, but there are countless alternatives on the market today that could be offered up at your event. Non-vegans may have the opinion that a vegan-friendly meal simply means replacing everything with fruit and veg, but meat and fish replacements are a great way to show your guests that protein alternatives can be just as delicious as the real thing. In fact, in some cases, they may not even notice the swap!
As you can see, creating a memorable celebration that still caters to vegan lifestyles isn't as complicated as it might initially seem. Whether you stick to a theme or go for a varied menu, veganising popular dishes and delegating certain tasks can make the event run more smoothly, ensuring everyone, vegan or not, has something to eat and drink.
About the author: Annie Button is a freelance writer based in the UK. Annie writes for a variety of prestigious online and print publications. A vegan for 12 years, she is a member of The Vegan Society. Visit Annie's website to find out more or follow them on Twitter @anniebutton1994. 
Don't forget to look out for the Vegan Trademark when shopping for your party essentials to help you spot vegan alternatives in a flash. The Vegan Society's team of experts have put in the hard work ensuring products carrying the Trademark are suitable for vegans, so all you have to do is have fun choosing! Follow @vegantrademark on Instagram and Twitter for vegan product updates and plenty of inspiration.
The views expressed by our bloggers are not necessarily the views of The Vegan Society.