Katherine Anderson
Administration Assistant 
"It's pink, I must have it!"
Katherine joined the Vegan Society in 2016 after a 5 year career working in the construction industry as a Purchasing Manager.
Moving to the Vegan Society was a big change after ordering excavators and dump trucks on a daily basis. But it was much needed as Katherine desperately wanted to work alongside likeminded people who are all striving to make a difference to such an important cause.  
So much so that she's still finding it hard to believe that she's here: she often has to pinch herself when she arrives at the office every morning!
When Katherine's not pinching herself at The Vegan Society you can find her either playing the latest video game, running endlessly on a treadmill or doing anything that involves thread, yarn or shiny buttons!
WHY VEGAN?    "I have always been an animal lover but it wasn't until mid-2015 that I realised that the food on my plate was directly opposed to my morals. This realisation came in the form of a meme that I saw on Facebook, which sparked a curiosity in veganism. I immediately went to YouTube and after spending a whole Sunday binge watching documentaries and crying rivers of tears for the suffering animals and dying planet I decided to go vegan." - Katherine
Amanda Baker

Senior Advocacy and Policy Officer
"I have a banana and I'm not afraid to use it!"
Though Amanda is extremely busy making sure our public services cater better for vegans, they always make time to offer a helping hand to colleagues. "Amanda will know" is one of the most frequently used phrases at Vegan Society HQ, along with "Hello", "Goodbye" and "Is that chocolate?" Amanda is affectionately recognised as a real-life search engine for all the obscure vegan questions you would otherwise have to Google. We don't know what we'd do without them.
A peacemaker through and through, Amanda is the last person you'd expect to list 'fighting' as one of their obsessions. However unlikely, Amanda has been known to throw some pretty good moves with their friends at weekly aikido classes. At the weekends, a garden fork is their weapon of choice as they fight climate change while practising permaculture down in their beloved allotment.
WHY VEGAN?   "Everything I believe in has increasingly aligned with vegan as a solution; but it was the environment and climate change that gave me the reason to fully commit to vegan living." - Amanda
Dean Bracher 
Sales and Merchandise Assistant
Dean is passionate about spreading veganism to the masses in various ways. In sales you'll find him sending out your VEG1 or The Vegan Passport, always happy to take your orders and share his knowledge of veganism.
When not at work he loves to ride his new hybrid bike and slob on the settee with chocolate - after all, he believes in a balanced life! A cat lover, Dean will often be found stroking random cats on the street and talking to them about veganism and social politics.
WHY VEGAN?   "As soon as I realised that caring for people is connected to all species I went straight to veganism and never looked back. 14 years have passed and we've seen a world that is opening up to veganism; working at The Vegan Society helps achieve this every day. I love being vegan more than anything else - and there's chocolate too!" - Dean
Dr Lorna Louise Brocksopp
Research Officer
"Thank you so much!"
Lorna joined the Vegan Society after working in research roles for over 15 years in the charity, public and academic sector, and volunteering for many animal rights and rescue organisations both here and abroad. Lorna has a PhD in 'Spiritual Wellbeing, Mindfulness and Health', and she's passionate about understanding how people can live more compassionate lifestyles. She enjoyed the ex-pat life working for 5 years in Barcelona, Spain, where she became fluent in Catalan. Missing country life however, she moved back to her homeland of Northumberland, where she can now be found in wellies at dawn for an early morning dog walk in the woods, saving trapped insects, drinking herbal teas by the gallon, juicing everything green and nibbling on homemade vegan spelt scones.
When she's not doing research about how veganism is good for the wellbeing of everything and everyone, she's clackity-clacking away on her vintage typewriter, writing prose poetry and articles on the importance of gratitude as an online journal columnist: Being thankful for life's simple yet wonderful things. Lorna's best friend is her four-legged companion dog, Nessie - a rescued mini pinscher from the streets of Valencia. 
WHY VEGAN?     "I'd been vegetarian for years because I loved animals and animal cruelty upset me beyond measure. However, after watching a documentary on how we are all connected - animals, humans and the planet - I realised that I wasn't living my life in accordance with my values. I hadn't made the connection. The answer was simple: to become vegan. It's undoubtedly the most important thing I've ever done for my own emotional, spiritual, social and physical wellbeing and I'm absolutely certain it would be for anyone else too. And, ultimately for me…it's always for the animals." 
Sarah Cook
HR and Office Manager
"We can fix it!"
Sarah's background is in theatre and arts management, particularly organising outdoor or unusual events. She's done "a little bit of everything" over the years: from sales and marketing through to fundraising and admin. She loves converting family favourite recipes into something everyone can enjoy.
Her other interests include campaigning for the Green Party, running fundraiser cabaret shows and partaking in live action roleplay (LARP). She can often be found running around in ridiculous costume for one reason or another. In fact, this is one of the very few pictures in existence of her looking relatively normal!
WHY VEGAN?     "I adopted two rescue cats a couple of years ago - I love them to bits. They have such distinct characters, personalities and preferences. It got me thinking about how different my attitudes were towards them compared with cows or chickens. I decided to try going vegan for a month and absolutely loved it. I haven't looked back!" - Sarah 
Andy Davidson
Supporter Services Officer
"You're probably wondering what type of seeds are between my teeth. The answer is Chia Seeds. Will I be removing them? Stop being silly."
Andy loves spreading the vegan message and can often be found in his home town of Chester helping new or existing vegans. He also enjoys attending events to engage with members of the public, where he can happily shout about the fantastic work The Vegan Society achieves!
Andy studied Business Studies and International Relations at Chester and Bristol University respectively, and loved every minute of it. In his spare time, Andy campaigns for various animal rights causes, stays fit and likes going for long bike rides.
WHY VEGAN?     "I've always cared for animals but never made the connection between my diet and animal cruelty. After thinking about going vegetarian, I made the jump in 2011 when I met my partner who was vegetarian. She convinced me to give up meat and this decision changed my life. A gateway to new information was opened. I then became Vegan after I watched a video showing 1 day old male chicks being killed by the thousands. I was appalled that we committed such atrocities merely for an egg. I told my partner that we had to go vegan and we've never looked back." - Andy
Louise Davies
Head of Campaigns and Policy
"I'm on the train!"
Louise Davies joined The Vegan Society having held a variety of roles in and around sustainability. First she was part of the team at The Guardian, then ran her own agency Seventeen Events, and latterly as the National Coordinator for Wales Green Party. Combining a passion for social justice, environmentalism and animal rights, Louise sees her role at The Vegan Society as her dream job. She works to raise awareness of the benefits of veganism with the general public, lobby parliamentarians to make vegan friendly policy and generally encourage behaviour change towards a more vegan society.
Louise is generally based in our Birmingham office but often works from home in the book town of Hay-on-Wye. So unsurprisingly she's a fan of the written word, and also has a long-held love for indie music which has involved travelling the length and breadth of the country in search of the next big thing.   
WHY VEGAN?   "I've been a vegetarian for all of my adult life, and had dabbled with veganism on and off. When I moved away from London to a rural, farming area, the reality of life for animals began to become more immediate for me. At the same time, another reality has been dawning on all of us - the impact of climate change and the urgency with which we need to inspire change. When I made the commitment to a vegan lifestyle, it didn't feel like a sacrifice - I knew it was the right thing to do."
Alex Douglas
Volunteering and Engagement Manager
"Genuinely!"
Every time you see Alex, she's likely to sport a different Vegan Society tote bag – her favourite colour being pink, of course. Aside from her duties as a tote bag model, Alex supports our growing network of volunteers throughout the UK and overseas. Having been volunteering with The Vegan Society herself for several years, Alex really knows her stuff, and is especially passionate about inspiring the next generation to get involved. The best thing about working with Alex though is how excited she gets whenever we order vegan pizza from a local delivery place. Earplugs at the ready!
As if a day at The Vegan Society wasn't enough for her vocal chords, Alex is also a member of a local choir. Living in Aberdeen for most of her childhood, Alex picked up a decidedly American accent. Alex protests it's because many people from the USA live there for the thriving oil industry, but the jury's still out on that one.
WHY VEGAN? "I never really understood the reasons why people went vegan until I read a Vegan Society leaflet when I was 17. I knew then that it was something that I had to do. I remember thinking to myself, 'I can't not be vegan.' And a few days later, after preparing my mum and my fridge, I was." - Alex
Stephen Hirst 
"The society needs to aspire to be the best it can be!"
Stephen started working for The Vegan Society in October 2015, after a career spanning over 30 years in business as an accountant. Used to managing very large sums of money - alas not his own - Stephen has tried his hand at becoming a business owner himself, as he owns and manages an eco-health food shop in Macclesfield.
A fan of cooking, Stephen also enjoys the blues, fresh air and football.
WHY VEGAN?   "I became vegan in 1976 after listening to a talk by Kathleen Jannaway, and still have a well used copy of First Hand First Rate minus its green cover that introduced me to such delights as 'barmene gravy.'" - Stephen
George Gill
Interim CEO
"It's win-win!"
One whiff of a vegan product and George is on it faster than you can say "Trademark". George has been with us since 2009, setting the direction for all things business-related. Most of the time, he's busy supporting our lovely clients on the launch of their vegan-friendly products. The rest of the time, he's making sure they're all registered with the international Vegan Trademark (we don't like to remind George of this too often, but it's largely thanks to his vision and drive that the Business Development team at The Vegan Society now sits head and shoulders above all other global vegan trademark schemes). With his 25 years of experience and a strong sense of business opportunities, George is an inspiration to vegan companies and manufacturers across the world. Work with him for long, and you'll be sure to hear his favourite two words in quick succession: "win" and "win". 
Can't cook and won't cook – but George can be relied upon in a takeaway pizza emergency. He's a fan of short sentences. And travels a lot.
WHY VEGAN?   "I had always been vegetarian – since birth. I drifted off the straight and narrow at university, but that only lasted 12 months. I went into veganism with an open mind, after reading lots of books – some spiritual. That was when I really understood that there's a lot more to it than just diet. It just seemed 'right'. Now, I enjoy eating carbs more than anything!" - George
Dave Nicholson
Sales and Merchandise Manager 
"Well this is exciting…"
Having worked in the thrilling world of optician's computer software for years, Dave wanted to move to an organisation which excited him and he felt passionate about. Sadly York City FC told him he was a terrible footballer so he settled for The Vegan Society.
Having gone vegan, Dave never looked back and is an active member of various groups and enjoys visiting vegan festivals and events. He's even recently tried his hand at actual grown-up cooking, with mixed results.
Dave's main passions outside of work are pub quizzes, the Eurovision Song Contest and underachieving at various sports.
WHY VEGAN?    "One day it just clicked in my mind that the reasons for not being vegan were just weak excuses and when that became a fact in my head, there was no alternative. Once I did it, those excuses seemed even weaker. It's the only way I could live my life now and I've never even slightly considered going back."
Allan Oakes
Administration and Finance Officer
"Just throw it in and blend it up – it's the easiest way to get your five-a-day!"
Morning is Allan's favourite time of day, which is lucky, because his in-tray is usually full shortly after 10am. Powered through the morning by his famous green smoothies, Allan's workload covers everything from processing direct debits and donations to providing general office support to the team. Even with administrative tasks coming from all directions, Allan handles our finances with dexterity and pleasure (although woe betide anyone who forgets to add a nominal code to that invoice). Now all he needs to do is figure out how to make a healthy smoothie taste like a bakewell tart, and he'll be sorted for life.
When he's not making everyone's lives easier around the office, Allan enjoys listening to music, going to live gigs, and playing the drums in his band. In fact, drumming is Allan's favourite form of exercise (it's around 400 calories an hour, in case you were wondering. And much more fun than mowing the lawn).
WHY VEGAN?   "Seeing the price of a cheeseburger was what did it. This was at Glastonbury festival ages ago. I remember thinking, 'all that suffering... and this is what I get?' In that moment, I decided to go vegetarian. My decision to go vegan was just as simple. I don't need animal products to live a healthy, happy life. I've been vegan for eight years and if I can do it, anyone can, because I'm the laziest person ever. At The Vegan Society, our kitchen is a place to experiment, and I'll often get into long conversations about nutrition and recipes with other members of staff – it's great!" - Allan
Elena Orde
Communications and Campaigns Officer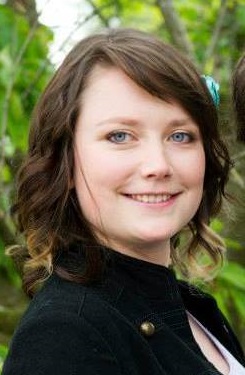 "Ooh I didn't know that!"
Elena spent over a year hanging around The Vegan Society offices, first as an Editorial Volunteer, and then as a part-time Communications Assistant, before joining the team full-time. Her plan of sneaking her way in has definitely paid off.
Elena is enjoying getting stuck into editing The Vegan Society's quarterly magazine, and has plans to make future issues even better than ever. As part of the lovely Communications team, she's looking forward to working together to bring the vegan lifestyle to as many people as possible. A highlight of her day is always sampling the amazing food which is passed around the office – and the novelty of knowing everything is vegan-friendly has never quite worn off. 
Having just finished an MA in English Literature, Elena spends her train journeys to and from the office with her nose in a book. When she's not waiting for trains, Elena enjoys indoor rock climbing, running very slowly, and spending far too much time watching YouTube videos.
WHY VEGAN?    "I was raised vegetarian, and always thought I was doing the right thing for the animals until a chance encounter with a vegan left me wanting to find out more. A couple of Google clicks later confirmed my suspicions that veganism was the way forward for anyone serious about making an impact. I couldn't ever go back to living in a way which didn't fit with my morals. On top of that, I've met so many wonderful people and enjoy food now more than ever."
Dominika Piasecka
Media and PR Officer
"That would make a good story!"
As an animal rights activist, Domi has helped to inspire many people to become vegan throughout the years while trying to balance her day job with activism. Joining The Vegan Society meant she could do activism seven days a week, instead of just weekends! 
Her job involves making sure the vegan voice is loud and clear in the media, and that more people are aware of how amazing being vegan is. You'll most likely find her reading something, whether it's a book about veganism or animal rights, another volume of manga or the latest news. Fascinated with all things oriental, she likes to explore the secrets of vegan Asian cooking but that doesn't always work out…
WHY VEGAN? "Everyone says they love animals, but they say it with the same mouth they eat them with. I eventually realised this hypocrisy and now want to help more people to open their hearts and minds. I've been a happier person since dedicating my life to fighting for animal rights. If being vegan isn't the best you can be, I don't know what is!"
Heather Russell 
Dietitian
"I'm not the food police!"
Heather trained to be a dietitian because she wanted to combine her love of science with a desire to help people (and she loves food!). She worked in the NHS from 2010 to 2016, and is excited that she is now able to use her dietetic skills to support the work of The Vegan Society.
Heather is passionate about eating well and keeping fit. In her spare time, she enjoys working out at home, walking, singing in a choir and cycling. She lives with her partner, Peter, and a couple of rats called Coco and Luna.
WHY VEGAN?    "Peter had been vegetarian for a few years when someone recommended a book called Eating Animals by Jonathan Safran Foer. That was the start of our vegan journey. Within a few weeks of me reading it, we attempted our first vegan shop, and the rest is history! I have always loved nature, and taken an interest in our impact on the environment. Being a dietitian, I already had knowledge of plant-based nutrition. During the transition from non-vegetarian to vegan, I focused on learning about how veganism helps animals, and our planet.  I have changed my lifestyle and widened my circle of compassion."
Ali Ryland
Web and Digital Communications Officer
"I love things that have been massively salted and fried."
Ali doesn't hail just from one place, having loved to travel around from a young age. While at university, Ali may have broken the record for number of hours spent on a Megabus, travelling between Scotland, Manchester and London, as well as venturing overseas – all within the coach's sticky confines.
At university, while not reading or traversing Britain in search of vegan junk food, Ali campaigned for various animal rights organisations and social justice movements. A brief stint in the music business saw Ali once again return to work for an ethical organisation: The Vegan Society.
Ali's role includes managing and engineering website content and development, while using other platforms geared towards getting the vegan message out there. A fan of hiking and mountaineering, Ali can be found enjoying the view at peaks around Europe.
WHY VEGAN?   "I went from veggie to vegan shortly after starting university, when I could no longer remain ignorant about the truths surrounding the dairy and egg industries. I've always been against animal exploitation, so it was time to align my actions with my philosophy." - Ali
Peter Smith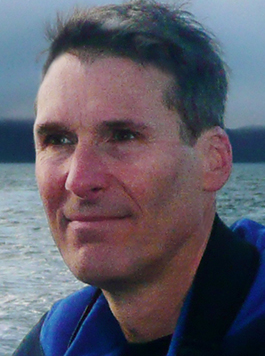 Head of Communications
"Chilled out? Me!"
A huge fan of looking at things in perspective, being 'chilled out' is a trait we appreciate beyond measure in Pete. Even in the run-up to big deadlines, we've yet to see him break into a sweat. And we like that it's kind of infectious: one glance his way, and suddenly the room feels calmer. 
His role at The Vegan Society is to plan and manage our communications, working together with the rest of the team to ensure that our campaigns and our message get out to as many people as possible. Having spent most of his working life to date in the world of television, Pete can easily make you laugh or cry with his wonderful storytelling abilities. 
When he's not hurtling down a hill on a mountain bike or dreaming of a life at sea, Pete can be found attempting a sunny walk in the Peak District, wishing he'd checked the weather forecast.
WHY VEGAN?   "My wife, Diane, has been my inspiration and guide when it comes to helping animals; we both became vegetarian in 1981, and decided to start campaigning for animal rights after watching The Animals Film in the opening week of Channel Four in November the following year. Acouple of years later, after reading The Vegan magazine while staying in mid-Wales, we decided to go vegan. Diane and I, along with our three kids, are proud to have been vegan ever since." - Pete
Abigail Stevens
Trademark Relations Officer
"I made cookies!"
Abigail hails from the land of summer, bringing sunshine into all of our lives. Always eager to give a helping hand, Abigail loves nothing more than speaking to Vegan Trademark holders in her role as Business Development Assistant. 
Often referred to as 'the office air freshener', you will never find Abigail without at least 10 LUSH products. Her favourite thing about working at The Vegan Society is being able to spend her time with other compassionate people and playing an active role in making veganism more accessible. Fresh out of university, Abigail doesn't want to stop learning new skills and is always keen to help with the events that we attend. 
Being so focused on conquering any challenges that get in the way of registering new products with the Vegan Trademark is tiring work, so Abigail likes to unwind by baking her colleagues some tasty treats, befriending the neighbourhood cats and writing articles about veganism.
WHY VEGAN?   "I'm vegan for the animals, for the environment and for myself. I had been vegetarian for four years and took the final step to veganism in January 2013 while at university. To me, being vegan means living my life at peace with my ethics, believing that no non-human animal should have to suffer for my lifestyle." - Abigail