This year, we're celebrating 30 years of making vegan beautiful with the Vegan Trademark!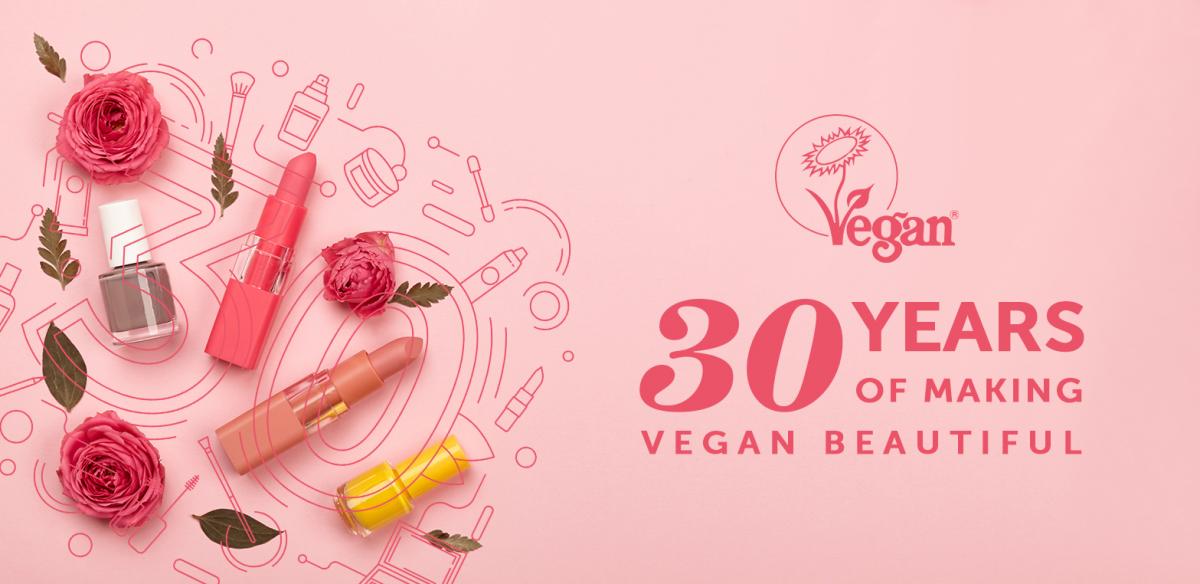 Since the launch of our trademark in 1990, we have seen an incredible rise in the number of cosmetics seeking to carry our label. The Vegan Society currently has almost 19,000 toiletries and cosmetics products registered with the Vegan Trademark! 
But this isn't just because people love beauty products. Labelling in the cosmetics industry can be confusing with definitions of terms like 'cruelty free', 'vegan', 'natural' or 'organic' not always being fully understood by consumers and businesses alike. The Vegan Trademark helps to provide clarification and reassurance that the products we register are free of animal use and therefore suitable for vegans. 
What is the difference between 'cruelty free' and vegan?

Cruelty free

In the beauty industry, the term 'cruelty free' refers to products which have not been tested on animals, or products that are not sold in territories (like Mainland China) where post market animal testing is required by law. Cruelty free does not, however, cover whether the ingredients in a product are derived from animals. 
What it means to be 'vegan'

The Vegan Society coined the term 'vegan' in 1944 and defined it as:
Veganism is a way of living which seeks to exclude, as far as is possible and practicable, all forms of exploitation of, and cruelty to, animals for food, clothing or any other purpose.
Vegan Labelling and the Vegan Trademark 

The Vegan Society's standards for the Vegan Trademark includes both no animal ingredients, and no animal testing (at the initiative of the company or on its behalf, or by parties over whom the company has effective control) when it comes to the products we consume. A product can therefore be 'cruelty-free' but not vegan.
Is there a legal definition?

Did you know, there is no legal definition of what makes a 'vegan' or 'cruelty free' product when it comes to labelling? Products labelled as 'vegan' are therefore open to being mis-labelled – either by companies misunderstanding the definition or wanting to gain access to a vegan audience without doing the groundwork. In fact, it's why we introduced the Vegan Trademark – the world's first vegan product labelling scheme of its kind. 
For the past 30 years, we've been working hard to help businesses label their products effectively and provide a trusted mark for consumers to easily spot vegan products. The Vegan Trademark gives you the peace of mind that we have ensured those products are free of animal use – that's including ingredients, processes AND testing.
No animal ingredients

When it comes to beauty products, the myriad ingredients, trade names and formulation codes can leave even the savviest consumer confused. Whilst with food the notorious 'milk powder' jumps out at you straight away, with cosmetics it's not always simple to identify non-vegan ingredients – particularly when they are listed in their botanical or latin names like 'cera alba', also known as beeswax.
The Vegan Trademark team combs through every ingredient and its methods so that you can shop with confidence and identify vegan products at a glance.
Here are some things we look out for when registering popular beauty products with our trademark and some vegan recommendations!
Nail Polish

Nail polishes can contain a multitude of ingredients that aren't vegan. A standard ingredient you might know of is shellac – derived from the female lac bug and used for its long-lasting qualities.
Other ingredients to be cautious of in nail paints include opalescent pigments taken from pearls, oysters or mussels.
Vegan Trademark registered nail polishes: 

All That Jazz, Lola Makeup, and Vivien Kondor have a huge range of vegan nail polishes and sell permeable and halal nail polishes too, and Amelia Knight nail polishes which you can find in Primark – just look for the Vegan Trademark. 
Eye shadows

Like nail paints, opalescent pigments can also be used in eyeshadows for that sought-after shimmery effect. They can also be found in other make-up products like highlighters and blushers.
Vegan Trademark registered eyeshadows:

Illamasqua's Beyond, Movement, Electrify and Unveiled eyeshadow palettes, PHB Ethical Beauty's Mineral Eyeshadow, and pigment palettes and single eyeshadows by George at Asda.
Lipsticks 

Beeswax, often listed as 'cera alba', is commonly used in lip products. We also look for cetyl esters which contain fatty alcohols that could be animal-derived and pigments which give colour to lipsticks and other makeup products. For example, Carmine (also called cochineal, crimson lake, natural red 4, C.I. 75470, or E120) which is commonly used to achieve bright reds and pinks in lipsticks, is derived from cochineal insects.
Vegan Trademark registered lipsticks:

You can find a range of registered lipsticks in Primark – just look out for the Vegan Trademark on packaging, or check out Illamasqua's huge range of Antimatter lipsticks.
Foundations

Pigments and hydrating ingredients (such as hyaluronic acid and squalene) are among the many ingredients we check in foundations. Hyaluronic acid can be made via biotech which can involve the use of living systems and organisms to develop or make products. Whilst squalene does have plant sources (like olive oil, rice and sugar), it can also be derived from the liver of sharks.
Vegan Trademark registered foundations:

Illamasqua's Skin Base foundation range, and George at Asda's Even Skin and Boost foundation ranges.
Perfumes

A lot of scents, musk and extracts in perfumes can be sourced from animals such as beavers, deer and whales.
Vegan Trademark registered perfumes include:

Ghost Fragrances iconic scents, perfumes and colognes by Dolma, handcrafted, unisex brews by Elementary Scents and affordable vegan versions of your favourite non-vegan fragrances by Eden Perfumes. 
Other ingredients in your cosmetics and skincare

It's also important to look out for ingredients like gelatin (for moisturising) which is derived from animals, collagen (for anti-ageing) derived from animal fats as well as vitamins like retinol, which can use animal-derived palmitic acid, and vitamin D3 which is often derived from lanolin (sheeps wool).
For more recommendations, make sure you're following @vegantrademark on Instagram and Twitter where we share all the latest exciting vegan beauty products and more! If you want to check if a product you already own or and interested in is registered with the Vegan Trademark, look out for our logo on packaging or use our directory which is categorized by brand.
By Vegan Society Digital Marketing Officer, Nishat Rahman
The views expressed by our bloggers are not necessarily the views of The Vegan Society.