Wednesday, 23 August, 2023
The days of table etiquette and tiny pieces of bread may be over, but an old school dinner party can be a great way to win over would-be vegans, while combining two favourite past times – eating and socialising.

If you're an aspiring culinary whizz, or you'd just like to lavish your friends with tasty plant-based fare, there are plenty of simple and delicious vegan dishes to be made with ingredients ready and waiting in your cupboards. 
And, when it comes to wooing omni guests, simplicity and familiarity are your BFFs. The delectable menu suggestions below aim to create the best of both worlds - and not a stuffed pepper in sight!
The menu

It may be rainy, but it's still the season of salads and light bites. With that in mind, you might want to consider lighter dishes which don't result in the plant-based meat sweats (not sure that's an actual thing). Try these Giant Tortillas for a simple pre dinner sharing snack complete with an exotic rainbow of accompanying dips.
While it could be argued bruschetta comes under the stodgy genre, it's a simple tasty dish enjoyed by vegans, veggies and omnis alike. It's also easily tarted up like this bruschetta recipe  which comes with three bean salad and a sprinkle of basil and rocket leaves.
For mains you might consider a curry on the lighter side such as this coconut dahl which uses red lentils, coconut milk, onion and a few basic herbs and spices. Naturally, this creamy lentil number  comes with a bit of bite - perfect for taking care of any 'protein though' disputes. To really up your V game, try this Paprika Rice side.
Another option is this chickpea tagine whose dried fruit and tomato ingredients give it a sweet and sour tang some might call tropical. Easily paired with couscous and some greens for a splash of colour – try this Rainbow Salad if you're feeling adventurous.
And when it comes to dessert, there's no need to worry about collapsed cakes or everything tasting of coconut, there's a bounty of decadent yet oh-so-simple summer style dishes such as these mini no-bake cheesecakes or these three ingredient meringues. Or if, come dessert, you're all out of steam, this one ingredient banana ice cream recipe is a no-brainer.
The setting

To set the mood for your summer soiree, and eliminate any pre dinner party nerves, try any (or all) of the following:
Crack open some vegan wine (sharing optional)
Why not serve up a signature cocktail using vegan-friendly spirits
String up a few fairy lights for a warm and welcoming glow (Christmas who?)
Pop on an acoustic playlist for indie summer feels
For rustic table vibes use plant pots and saucers for food stands, jars of wildflowers or scatter shells for a beachy theme
Top off your menu magic with some after dinner board games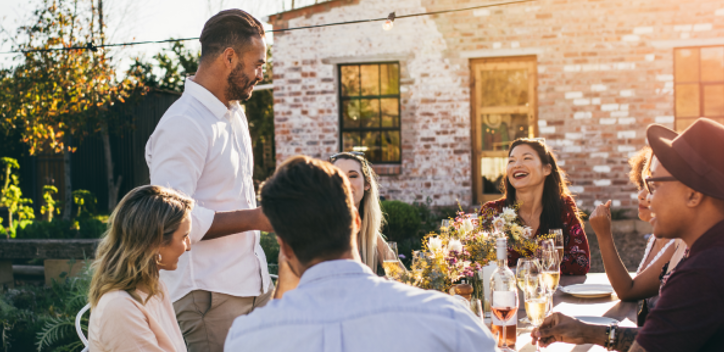 If you've not already hot-footed it to the kitchen, hopefully you have enough food for thought to inspire your summer dinner party plans. And if the above recipes don't hit the seasonal spot – don't sweat! Visit the Vegan Society website where you'll find plenty of mouthwatering recipes to suit every palette. Bon appetite!
By Catherine Thompson
Catherine is a freelance writer and passionate vegan foodie. Read Catherine's online portfolio to find out more.  
The views expressed by our bloggers are not necessarily the views of The Vegan Society.